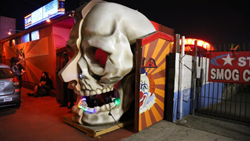 "A visit to the circus on heavy mind altering psychedelics whilst getting kidnapped by clowns who take you on an insanely feel-good joyride around town."
North Hollywood, California (PRWEB) October 18, 2016
Surviving for over two decades in the heart of Southern California, Los Angeles, the performance art and music venue known as the California Institute of Abnormal Arts (CIA) is changing its name to Chinatown East.
CIA/CE is the brainchild of owners Carl Crew and Robert Ferguson, who met while working together as morticians in the Marin County area.
Crew, who portrayed the notorious serial killer, Jeffrey Dahmer in the 1993 film 'The Secret Life', says the name addition is a necessary one as too many people were calling up the venue expecting to reach the actual Central Intelligence Agency on the other end of the phone line.
Once carnival themed, CIA/CE is now dressed up like a warped version of Chinatown (hence the new name), The layout is a labyrinth--there's a movie screening area, a full stage for performances,an outdoor patio, a bar, and twisty hallways which include multiple intimate crevices for optimal exploring.
The vast collection of freak show memorabilia and unique artifacts are stuffed into every nook and cranny and grab your attention as you focus in on some type of carnival trinket or morbid knick- knack, each with a twisted backstory of their own.
A patron described the experience of the venue as being likened to "a visit to the circus on heavy mind altering psychedelics whilst getting kidnapped by clowns who take you on an insanely feel-good joyride around town."
Highlights include: a cursed mangled arm-- which is said to "grant wishes in 24 hours", and supposedly brings an undesirable run of bad luck to those who photograph it-- a haunted painting, the head of Bigfoot, a monkey's paw and the mummified body of a vertically challenged thief.
One of the main attractions is a real mummified clown which is said to be 100+ years old and filled with toxic embalming fluids.
The shows which the club hosts include performance arts, fire eaters, stand-up comedians, music bands, various freak show acts, belly dancing and burlesque.
This Halloween season will feature several appropriately themed acts to be caught, such as the group performing on Thursday, October 27th,Evan Stone and the Translucent Ham Sandwich Band. (THSB)
THSB will return to CIA/CE bringing with them the usual cast of characters who will help usher in the 'night of the living dead' with their improvisational sounds which explore truly horrific and scarier than hell topics such as real life political current events.
Showtime is 9:00pm and tickets are $10.00 at the door. For more information:
http://www.chinatowneast.com
http://www.translucenthamsandwichband.com
11334 Burbank Blvd North Hollywood, CA 91601 - (818) 221-8065