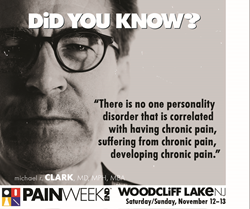 Montclair, NJ (PRWEB) October 17, 2016
The 2016 PAINWeekEnd (PWE) Regional Conference series continues on November 12 and 13 at the Hilton Woodcliff Lake at 200 Tice Boulevard. The two-day program will provide busy clinicians and allied healthcare practitioners with 12.0 hours of relevant, practical instruction in the management of chronic pain.
A recent report from the ACLU stated that legalizing marijuana would bring a potential annual $300 million in sales tax revenue. But does that make it a good idea for your patients? Two courses at PWE Woodcliff Lake address this issue, along with other pain management topics: chronic pain assessment; when acute pain becomes chronic; assessing and managing acute and chronic low back pain; creating a treatment plan for higher risk patients; patient centered urine drug testing; complex regional pain syndromes; small fiber neuropathies; medical marijuana and the treatment of central nervous system disorders; and courses entitled, "Fire the Molecule, Not the Patient! Addressing Irresponsible Prescribing Through Universal Precautions," and "Cannabis vs Cannabinoids: The Politics of Medical Marijuana." In addition, there will be commercially supported activities addressing a range of product, disease state, and medical information topics.
By attending PAINWeekEnd Woodcliff Lake, participants can receive 12.0 credit hours towards New Jersey's CME requirements (MD/DO = 100 every 2 years; AMA PRA Category 1 Credits required = 40) as they enhance their skills in medication risk evaluation and mitigation, pain assessment and diagnosis, and delivery of individualized multimodal treatment.
To see the complete agenda and more information about this or other PAINWeekEnd Regional Conference, go to painweek.org.
The online registration fee for this PAINWeekEnd Conference is $199. PAINWeekEnd registrants are further offered the opportunity to register for the 2017 PAINWeek National Conference, September 4-8, in Las Vegas, for $129 off the current online published price.
PAINWeekEnd is provided by Global Education Group.