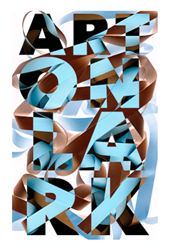 The colors reflect the summer season, which is when the festival is held ... I'm thrilled with the outcome.
Troy, NY (PRWEB) October 17, 2016
Smith & Jones' graphic designer Jessica Lucia will be featured in the Communication Arts magazine after winning their annual typography competition this month. Over 1,800 artists submitted their work to the organization, and only 143 were selected to get published this January and February in special editions.
Her winning piece of artwork, Art on Lark, was inspired by an art festival that takes place in Albany, New York. Jessica designed the poster to raise money to go to the American Institute of Graphic Arts Design (AIGA) Conference in New Orleans.
"The scanned ribbon is featured prominently in the design to create movement and give viewers a feeling of celebration," Jessica said. "The colors reflect the summer season, which is when the festival is held. They also represent happiness, unity, and harmony. I'm thrilled with the outcome."
The Communication Arts magazine is a professional journal for everyone involved in visual communications. Each year they hold a typography competition to help emerging artists gain exposure and veteran designers continue to grow in their professions. All the artwork is judged by industry leaders who critique based on "creative excellence" and "quality of execution."
The winning projects will be reproduced in over 30,000 print editions. In addition to a magazine spread, Jessica will also receive a personal award of excellence.
At Smith & Jones, Jessica turns strategic direction into compelling designs for hospital clients. Additionally, she is the EMERGE Coordinator for the Upstate New York Chapter of the AIGA, where she helps designers with 0-5 years of experience network and establish careers. She also volunteers at several graphic design conferences, including the Typographics design festival in New York City.
About Smith & Jones
Smith & Jones is the marketing communications agency exclusively focused on helping hospitals and health systems outsmart their competitors. We imagine an America where healthcare is truly personal, where everyone has local access to a superior customer and clinical experience, and as a result, people live healthier lives. We contribute to that vision by helping our clients create meaningful and desirable healthcare brands, align their internal teams, engage new and existing patients, and drive downstream revenue. Together, we change the outcomes.