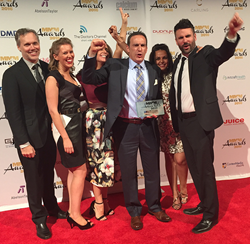 Celebrating, left to right, are Stephen Neale, Michele Hillman, Allison Ruda, Jeff Berg, Maie Atabani and Arman Khavari. In September, the agency was named Advertising Agency of the Year by PM360 magazine, winning a gold Trailblazer Award.
Chicago, Ill. (PRWEB) October 14, 2016
For the second time this fall, AbelsonTaylor, the world's largest independent medical advertising agency of record, has been named Agency of the Year in a major awards competition recognizing outstanding creativity and effectiveness in healthcare marketing.
The most recent honor was conferred last week, when AbelsonTaylor was named Midsize Agency of the Year at the prestigious MM&M Awards. Sponsored by Medical Marketing & Media magazine, the awards are judged by an independent panel of healthcare marketers from the agency, client, publishing and service sectors. The judges cited AbelsonTaylor's "exceptional client service, excellence in tactical execution, and superb creative product" when announcing the award.
"We are deeply honored by this tribute," said Dale Taylor, president and CEO of AbelsonTaylor. "We always strive for excellence, cherish the creative, and value our people. It's gratifying to be recognized for our work and our culture, especially when the award selection is made by our peers."
In September, AbelsonTaylor was also named Advertising Agency of the Year by PM360 magazine, receiving a 2016 Gold Trailblazer Award for 35 years of innovative healthcare marketing, a strong talent-development program that produces elite leaders, and an exemplary commitment to corporate social responsibility.
"We've been named Agency of the Year four times before over the years, but winning the accolade twice within a few weeks is a special honor," said Dale Taylor, president and CEO of AbelsonTaylor. "I commend everyone in our agency and thank MM&M and PM360 for recognizing our achievements."
Winners of gold MM&M Awards will be featured in the magazine's November issue. Trailblazer Award winners are featured in the October issue of PM360.
About AbelsonTaylor
AbelsonTaylor is the world's largest independent, medical advertising Agency of Record. Since its beginning in 1981, the company has maintained a singular focus on building brands that help people live healthier lives. To retain its reputation for creating award-winning brand experiences in broadcast, print and digital, AbelsonTaylor nurtures an environment where the best people can thrive and innovate. To learn more, go to  abelsontaylor.com and visit Twitter or Facebook.