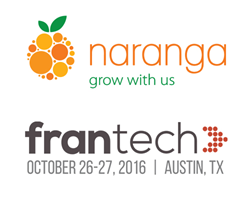 Atlanta, GA (PRWEB) October 18, 2016
Leading entrepreneur Tariq Farid will share the success story of Edible Arrangements® and discuss how Naranga technology continues to be a major contributor to his achievements during a keynote address at next week's FranTech, a conference focusing on digital marketing and technology for the franchise industry.
Farid will discuss Edible Arrangements and its launch, technology journey and the resulting creation of Naranga, which delivers software solutions to help franchises manage and scale their businesses. He'll detail what inspired him to build his own IT solution for Edible Arrangements and will focus on how Naranga simplifies franchise operations management and provides effective business intelligence in one easy-to-use, integrated software platform.
Farid is founder and CEO of Edible Arrangements, a worldwide leader in high-quality, artistically designed fresh fruit arrangements. He launched the first Edible Arrangements store in 1999 and the first franchised location in 2001. The company has grown to more than 1,400 stores worldwide and was recently named to the Franchise Times annual Top 200+ list. In addition to other technology, distribution and supply chain management companies, he established Naranga in 2014.
FranTech, sponsored by the International Franchise Association, will be held October 26-27 at the AT&T Executive Education and Conference Center in Austin, Texas. The conference features additional speakers, expert roundtables, information on the latest technology solutions, networking and an attendee think tank. Naranga is exhibiting at the event.
About Naranga
Naranga, a franchise technology provider, delivers software solutions that help businesses scale at any size. Naranga enhances overall operations, lead management, brand standards/field auditing, training, ecommerce systems and consumer engagement practices. Clients turn to Naranga when scalability, visibility and brand consistency are their top priorities.