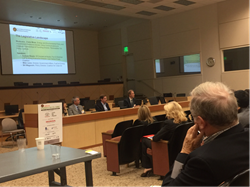 New York, NY (PRWEB) October 16, 2016
In Sacramento, China Hydrogen Fuel Cell Corp. participated in the Hydrogen Fuel Cell Summit on October 4th, 5th and 6th at the California Environmental Protection Agency headquarters building.
"We are fascinated by the power of clean energy." Mr. Ran, CEO of China Hydrogen Fuel Cell Corp said, "Our goal is to launch two hundred hydrogen buses in the next three to five years in Chongqing City, China. We are here at Hydrogen Fuel Cell Summit to learn more about the insights, hydrogen technology and explore business opportunities. It is a valuable opportunity. "
Hydrogen offers the promise of a safe, sustainable energy supply that can be produced domestically. When hydrogen is produced from renewable sources and used in a fuel cell to create electric power, it does not contribute to global warming.
With Chongqing, China government's regulation support, China Hydrogen Fuel Cell Corp.'s estimated hydrogen investment budget is between two to three million dollars. GDP's rank in Chongqing City takes the first place in China.
"Beijing-based Cibanking financial company, invested the hydrogen project along with Tsing Hua University hydrogen team," Mr. Ran said, "To produce one thousand fuel cell stacks in the next few years would be challenging, but we are confident to say that the era of hydrogen buses is coming. We are fully prepared for the opportunity."
About China Hydrogen Fuel Cell Corp.
China Hydrogen Fuel Cell Corp. is founded in Chongqing city, China. Cibanking Inc and Tsinghua University, hydrogen research team both invested the hydrogen bus transportation projects. We have adequate resources and opportunities.
About Cibanking Inc.
Cibanking Inc. is a fee-only investment adviser serving institutional and private clients globally. The CEO, Xiang Ran, designed the firm with one vision in mind: putting customers at the forefront and building an investment management firm to support long-term investment objectives. The client-first approach puts the focus where it should be—on you and your investment needs. Our goal isn't to achieve the impossible by picking the single best stock or predicting every market fluctuation. It's to ensure your satisfaction by helping you achieve your long-term financial goals. Our firm's approach reflects those values. We believe this focus on putting investors first is why we have managed portfolios for about ten years and currently serve clients globally.