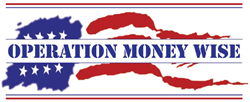 Boston, MA (PRWEB) October 18, 2016
What: National nonprofit American Consumer Credit Counseling (ACCC) will host Operation Money Wise, a free, one-day financial education conference for the Military, Veteran, Family and Survivor Community on Saturday, October 29 from 9:00 AM to 4:00 PM at Worcester State University.
Operation Money Wise of Worcester County will offer several breakout sessions for attendees, on topics including VA Benefits, Financial Planning, Budget & Credit Management, and First Time Home Buyers. Certified financial counselors and financial planners will be onsite during the event. Financial resources, information and educational materials will also be available to provide participants with the knowledge they need to help make good financial decisions.
The Operation Money Wise Project was funded in part by the Massachusetts Economic Empowerment Trust Fund through the Massachusetts State Treasurer's Office of Economic empowerment. For more information and to pre-register for this event please visit http://www.OperationMoneyWise.com.
Who: American Consumer Credit Counseling
When: Saturday, October 29, 2016
9:00 AM to 4:00 PM
Where: Worcester State University
486 Chandler Street
Worcester, MA 01602
ACCC is a 501(c)3 organization that provides free credit counseling, bankruptcy counseling, housing counseling and student loan counseling to consumers nationwide in need of financial literacy education and money management. For more information, contact ACCC:

For credit counseling, call 800-769-3571
For bankruptcy counseling, call 866-826-6924
For housing counseling, call 866-826-7180
Or visit us online at http://www.ConsumerCredit.com
About American Consumer Credit Counseling
American Consumer Credit Counseling (ACCC) is a nonprofit credit counseling 501(c)(3) organization dedicated to empowering consumers to achieve financial management through credit counseling, debt management, bankruptcy counseling, housing counseling, student loan counseling and financial education. As experts in debt and credit management, ACCC is well equipped to assist our US military service members and veterans with the unique financial challenges they face. ACCC provides veterans and current military personnel with the personal finance tools needed to evaluate their financial situation and determine the best possible debt solutions to ease their transition before, after, and during deployment. As one of the nation's leading providers of personal finance education and credit counseling services, ACCC's certified credit advisors work with consumers to help them determine the best plan of action to get out of debt and regain financial stability. ACCC holds an A+ rating with the Better Business Bureau and is a member of the National Foundation for Credit Counseling® (NFCC®). For more information or to access free personal finance resources, log on to ConsumerCredit.com