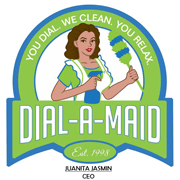 Kenner, LA (PRWEB) October 17, 2016
Juanita Jasmin Dorsey, Owner of Dial-A-MAID, located in Kenner, LA has been a proud charter member of Cleaning For A Reason, a non-profit foundation making a difference one home at a time.
The Cleaning for a Reason mission is to give the gift of free house cleaning for women undergoing treatment for any type of cancer. The goal is to let these brave and strong women focus on their health and treatment while we focus on, and take away the worry and work of, cleaning their homes– free of charge. Since its inception, Cleaning for a Reason has helped over 22,000 women, recruited over 1200 cleaning companies nation-wide- valued at over $6 million dollars.
Fighting cancer is hard enough, but living with it is even tougher. That's why Ms. Dorsey has partnered with Cleaning for a Reason for years. "So many of us have been touched by cancer. Being a partner with Cleaning for a Reason, I am able to help women who are undergoing treatment for cancer by focusing on cleaning their home so they can focus on their health. It allows us to be a leader in our industry by doing our part to help. It has always been important to me as a business owner to make a difference in our community. Cleaning for a Reason "
"Having Dial-A-Maid clean my home through this trying time was heavenly! It was hard for me to perform the general cleaning services that the ladies provided for me. A true blessing", explained Pat Noble, Cleaning for a Reason DIAL-A-MAID client.
At DIAL-A-MAID, the staff takes great satisfaction from their volunteer efforts and considers it a privilege to be able to put a smile on someone's face. For more information about DIAL-A-MAID, please visit http://www.dialamaidnola.com or call 504.464.MAID (6243).
Dial-A-MAID
In 1998, Juanita established Dial-A-Maid, a residential and commercial cleaning company, serving Jefferson & New Orleans Metropolitan area. Over the last decade, Juanita has garnered a number of awards for her company and her employees, including the MLK Award of St John Parish and the Professional Image Award from Residential Cleaning Services International. http://www.dialamaidnola.com.