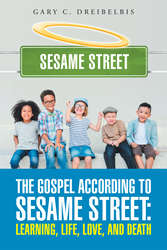 (PRWEB) October 17, 2016
Inspired by "Sesame Street" and its many themes, Gary C. Dreibelbis wrote "The Gospel According to Sesame Street: Learning, Life, Love, and Death."
Multiple generations have grown up watching "Sesame Street" as a fun and educational program. In his book, Dreibelbis examines the show as a way to teach children core values that can apply to all people regardless of religion or background.
"While Sesame Street has never addressed organized religion, it does address issues of morality and making kinder children," said Dreibelbis.
The book details how creator Joan Ganz Cooney originally sought to produce a program geared towards children of poverty, but went on to be embraced by parents and children of all demographics.
"Even more than the animated features of Walt Disney and certainly more than The Simpsons, Sesame Street has had a deep and enduring role in shaping young minds about faith and morality," said Mark I. Pinsky, author of "The Gospel According to Disney," and "The Gospel According to The Simpsons."
Dreibelbis wrote this book as a way to further examine "Sesame Street" as an endearing and beneficial program for parents and their children.
"The Gospel According to Sesame Street: Learning, Life, Love, and Death"
By Gary C. Dreibelbis
ISBN: 978-1-51275-113-0 (softcover); 978-1-51275-114-7 (eBook)
Available on Amazon, Barnes & Noble, and WestBow Press
About the author
Gary C. Dreibelbis taught communication courses at Bradley University, Northern Illinois University, The University of Georgia, San Francisco Theological Seminary, and Solano College. He is the coauthor and editor of "Watching What We Watch: Prime Time Television Through the Lens of Faith" and author of "The Video Performer." To learn more about the author, please visit his website at http://www.gospelsesamestreet.com.
###
Review Copies & Interview Requests:
LAVIDGE – Phoenix
Bryan Beach
480-998-2600 x 510
bbeach(at)lavidge(dot)com
General Inquiries:
LAVIDGE – Phoenix
Kalin Batts
480-998-2600 x 524
kbatts(at)lavidge(dot)com