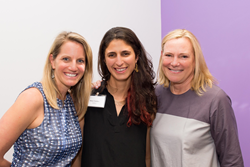 [Plum Alley Investments] recognizes that we not only need to back gender-balanced teams, but also address gender balance at the structural level with investors
New York, NY (PRWEB) October 18, 2016
Today, Plum Alley Investments, a private membership supporting promising women entrepreneurs and gender-diverse teams, announces the closing of a $560k syndicate in EpiBone, a startup using stem cells to grow new bone. Alongside funders like Partnership Fund for NYC, Breakout Labs, and other noted angel and institutional investors, Plum Alley participated in the company's recent multi-million capital raise.
Featured on Bloomberg, CNBC, and CNN, EpiBone is a biotechnology company led by Dr. Nina Tandon seeking to revolutionize reconstructive bone surgery by enabling patients to generate bone from their own stem cells with the help of 3D printing and other digital fabrication technologies. EpiBone's ultimate mission is to disrupt the current model of healthcare delivery based on pills and devices by creating a truly living therapy that reduces the need for multiple surgeries and improves patient outcomes.
Deborah Jackson and Andrea Turner Moffitt, the co-founders of Plum Alley Investments, are committed to building an inclusive and active ecosystem of women and men who value diversity and want to invest in companies shaping innovation. Recent research co-authored by Turner Moffitt and the Center for Talent Innovation reveals, "90% of women want to invest in companies that promote social well-being." The same study shows that women control $11.2 trillion of investable assets as primary and joint decision makers, yet women have a significant amount of capital on the sidelines. Plum Alley provides the opportunity for a broader base of investors to become directly involved with purpose-driven companies like EpiBone.
"I first met Nina 18 months ago in my work on the committee of senior advisors who work with the President and Board of Columbia to direct the University in the field of entrepreneurship. We all know how important our networks are and the opportunity you have when the network is open to both women and men. As a founder of a company and as an investor, I see the momentum and value to more inclusive and robust networks," said Deborah Jackson, CEO of Plum Alley.
CEO and co-founder of EpiBone Dr. Tandon believes that having a diverse base of investors and opening the access to more women investors is of critical importance. "We are thrilled to be working with Plum Alley, who recognizes that we not only need to back gender-balanced teams, but also address gender balance at the structural level with investors, to foster a broader, more connected ecosystem of founders and investors," comments Dr. Tandon, who holds a PhD in Biomedical Engineering and an MBA from Columbia University.
Companies that accelerate positive change, embrace innovation and have strong business models are important to the growing base of Plum Alley members, which includes men and women with executive experience across Wall Street, technology, education, philanthropy, Fortune 500 companies, and a variety of industries.
"Plum Alley not only offered the visibility and access to EpiBone, but also a thoughtful, efficient and engaging investing experience," shares member LeighAnne Baker, Corporate Vice President and Chief Human Resources Officer of Cargill, "I've been able to diversify my portfolio by investing in a promising biotech startup run by a female founder and CEO, which matches one of my investment goals."
EpiBone marks Plum Alley Investments' fourth syndicate. Within its first year, Plum Alley Investments has deployed $1.5 million in capital across four distinct sectors: unconscious bias software, education tech for children, marketplace private investigators, and regenerative medicine.
To learn more about EpiBone visit epibone.com.
About Plum Alley Investments:
Plum Alley Investments is a paid private membership committed to offering new and seasoned investors highly curated investment opportunities and a different investing experience both offline and online. Plum Alley Investments is part of Plum Alley, a company that has championed women entrepreneurs since 2011.
Members have access to private company investment syndicates, inspiring entrepreneurs, insights from seasoned investors, opportunities to collaborate with other members, and execute equity and debt investments.
For more information on Plum Alley Investments visit plumalley.co or contact sara(at)plumalley(dot)co.