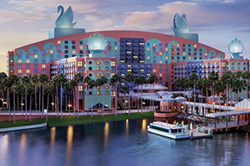 Advantage 2016 is the must-attend event for Intacct customers and partners.
Houston, TX and Orlando, Fl (PRWEB) October 17, 2016
AcctTwo, Intacct's overall Partner of the Year for three years running, will be a Gold Sponsor at this year's Intacct Advantage Conference at the Walt Disney World Swan and Dolphin Resort in Orlando, FL from Oct. 24-28. Advantage 2016 is the must-attend event for Intacct customers and partners. From introductory workshops to advanced training, a full range of sessions are available to customize the conference eaxperience for each attendee. In addition, attendees can access direct support from Intacct experts, meet Intacct's partners to learn about other software systems already integrated with Intacct, and network with peers at evening events to share best practices and unwind after a productive day. Optional pre-conference training courses are also available for more in-depth education.
The agenda for the conference is available for planning purposes. The AcctTwo team will be available at Booth #17.
About AcctTwo:
AcctTwo is a leading consulting firm and reseller of cloud-based accounting and financial management software. Our sophisticated systems solve the issues growing middle market companies and nonprofits face today. AcctTwo also provides Business Process as a Service (BPaaS) solutions, allowing clients to focus on the core competencies of their business. We provide the people, processes, technology, and office facilities to perform these functions, while allowing clients to collaborate interactively through an on-line portal.
AcctTwo is headquartered in Houston, Texas. For more information, please visit http://www.accttwo.com or call 713-744-8400.
Contacts:
Peter Wagner
Director of Marketing
AcctTwo
Cell: 512.415.6846
Email: pwagner(at)accttwo.com
Chris Wailes
VP, National Media Relations
Pierpont Communications
Direct: 713.627.2223
Email: cwailes(at)piercom.com