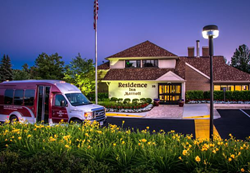 HERNDON, VA (PRWEB) October 18, 2016
Getting away can be great. A change of pace and scenery every once in a while is important to keeping things interesting. We want new sights, new activities, and even maybe to meet new people along the way – it's about breaking up the routine. In tandem with all the newness and excitement of a long getaway, we also want the familiar comforts and convenience of home. That's the philosophy of the Residence Inn extended stay hotel in Herndon. The hotel is managed by Crescent Hotels & Resorts, an operator of over 100 hotels throughout North America, including 14 in the Washington, DC area.
Thrive on long stays. That's the promise that the Residence Inn is making to its guests with its extended stay Reston hotel package. The Residence Inn Herndon Reston is specifically designed with amenities curated to support guests on long stays, whether they be traveling for business or a long needed vacation. Their suites offer spacious, apartment-style living, complete with full kitchens, MIX nights with beer and wine, free WiFi, LCD TVs, relaxed living spaces, and luxurious bedding. It's with this in mind that guests gain an advantage on room rates, with rates starting at $109 per night for stays seven nights or longer.
In addition to the above amenities, guests of this extended stay hotel near Reston, Virginia will receive a $20.00 credit towards grocery delivery service from pre-selected, participating stores for every seven consecutive nights stayed. Additionally, all guests receive complimentary on-site parking.
For reservations, guests may click here to book online or call 1-800-701-1135 and ask for promotional code ES7. Should guests from outside the U.S. be in need of a toll free number they are available by clicking here.
This Residence Inn's Herndon Reston hotel room offer is valid through February 28, 2017. To receive the $109 per night room rate and $20 grocery credit, guests must stay seven consecutive nights or more. The extended stay package is not applicable to group bookings of ten rooms or greater and cannot be combined with other promotions or discounts available at Residence Inn Herndon Reston. The rate is also variable based on availability at the time of reservation and the actual length of stay.
Guests seeking a break from their old routines will thrive on their long stay at the Residence Inn Herndon Reston. Come stay a while and become immersed in something new while feeling at home. All just outside Washington, DC.
About Residence Inn Herndon Reston
Home travels with you during an extended stay at the Residence Inn Herndon Reston. Whether making a long business trip or on vacation with the family, this Herndon, Virginia extended stay hotel has the amenities you need for a successful stay. Rooms and suites are furnished with all the comfort and convenience of home: fiber-optic internet, LCD TVs, plug-in technology and spacious work stations, plush bedding, and fully equipped kitchens. Adding to the experience is the hotel's ideal location, with shuttle access to and from Dulles airport, Wiehle metro station, and any requested location within a three-mile radius of the hotel. Hidden Creek Country Club and more of the best Reston-area golf courses are easily accessible. Excellent shopping and dining options are waiting to be explored at the Reston Town Center, near the hotel. And a day trip to the nearby Great Falls offers the area's most beautiful outdoor experience. The hotel's stylish and relaxed suites are complemented by a free daily breakfast, and regular evening socials for personal engagement unique to the Residence Inn Herndon Reston. The hotel is managed by Crescent Hotels & Resorts.
ABOUT CRESCENT HOTELS & RESORTS
Crescent Hotels & Resorts is a nationally recognized, top-3 operator of hotels and resorts. Crescent currently operates over 100 hotels and resorts in 27 states in the US and 5 provinces in Canada. Crescent is one of the few elite management companies approved to operate upper-upscale and luxury hotels under the brand families of Marriott, Hilton, Starwood, Hyatt and IHG. Crescent also operates a collection of legendary independent hotels and resorts. Crescent's clients are made up of hotel REITs, private equity firms and major developers. For more information, please visit http://www.chrco.com or connect with Crescent on LinkedIn.
rw Stayinwashingtondc.com #stayinwashdc
###