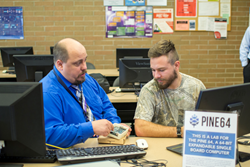 PITTSBURGH, PA (PRWEB) October 18, 2016
Eight of the world's first 64-bit expandable Quad Core 1.2 Ghz supercomputers, PINE64, have arrived at Pittsburgh Technical College (PTC) for use in its classrooms. PINE64 is a 64-bit single board high-performance computer, the size of an index card, that can perform like your desktop or laptop, but three times faster. Most importantly, the basic model of this supercomputer costs just $15.
The concept for PINE64 technology was developed by a team that included Daniel Kottke, one of the first employees of Apple®, whose vision was to make an affordable computer. Initial funding for the idea was part of a crowdfunding campaign through Kickstarter.
PTC students are some of the first in the area to experiment with this technology. Dr. John Scarpino, Academic Chair of the School of Information Technology at PTC originally reached out to the inventors of PINE64 to request the units. "This is a huge win for us," Scarpino says. "This is a strong example of PTC's hands-on approach to instruction. Our students are adapting to emerging technology."
PINE64 supercomputers enable users to browse the Internet, launch media players, watch high definition video, play games or execute spreadsheets and word-processing programs.
Students in PTC's Computer Programming and Information Technology degree programs are all experimenting with the PINE64 units. Faculty members are incorporating the technology into their curricula in different ways, including for use with software game development, media hardware, data access, security and firewall appliances, and to connect to virtual servers and networks.
The college's School of Design also became involved. PTC's Computer Aided Drafting department located a computer case design on the PINE64 website and created it to spec on the college's 3D printer.
"The PINE64 technology truly engaged all departments within the School of Information Technology," Scarpino said. "And we maximized the learning experience for our students by integrating innovation with outside departments, too."
Wilfred Mutale, IT Faculty at PTC, is challenging his students to build the computer with different operating systems. Because PINE64 is currently limited to certain operating systems, Mutale believes his students will be excited to develop new operating systems and applications for the PINE system. "New technology means we are growing a new generation of students," Mutale says. "Our students are learning and beginning to see how much they can contribute, and it motivates students to go beyond what has already been discovered."
About Pittsburgh Technical College
A leader in career-focused education since 1946, Pittsburgh Technical College (PTC) offers bachelor's and associate degrees and certificate programs in more than 30 areas. Its 180-acre campus is home to the American Academy of Culinary Arts, the Energy Technology Center, the Nursing Simulation Center and many specialty labs. PTC students can take advantage of online course offerings, on-campus residence halls, student activities, intramural programs and community service programs. PTC is accredited by the Middle States Commission on Higher Education.