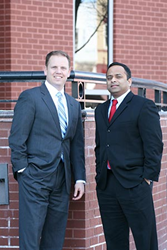 Noblesville, Indiana (PRWEB) October 14, 2016
During its October monthly meeting, the Hamilton County Council selected Fishers-based Massillamany & Jeter LLP to provide the Council's legal services for 2017. In less than eighteen months, Massillamany & Jeter LLP has grown from just its two partners, Mario Massillamany and Chris Jeter, to a staff of six lawyers and support staff, making it the fastest growing law firm in Hamilton County.
Firm partner Massillamany credited he and his partner's years of government services work at Barnes & Thornburg LLP for allowing them the opportunity to be competitive. "We are excited to put our years of government services work to use for the County Council," Massillamany said. "We truly believe that we can add value to a Council that is already exercising strong fiscal leadership with balanced budgets, low taxes, and best-in-class services" Massillamany added. Chris Jeter expressed excitement for the opportunity to contribute to the growth and vitality of the county in which he was born. "Having been born and raised in Hamilton County, I am so excited to be a small part of the great things happening here," Jeter said. "This is truly an amazing moment for our law firm and an incredible opportunity to support our elected officials," he added. Chris Jeter will serve as the Council's primary attorney with Massillamany providing support. The yearlong contract will begin on January 1, 2017.
Massillamany & Jeter LLP is a full-service law firm based in Fishers but serving the entire State of Indiana. Mario Massillamany and Chris Jeter began their careers as public interest lawyers, serving their communities at the local, state, and national level. Mario served as a local prosecutor while Chris spent several years on active duty in the United States Navy as a Judge Advocate General (JAG). Following their years in public service, Mario and Chris had a nationwide practice while working for Indiana's largest law firm, and one of the top 100 largest firms in the country. In addition to its civil, criminal, and estate planning work, the Firm's lawyers have represented numerous municipal and county governments, committees, and administrative bodies. The Firm has offices in Fishers, Carmel, Noblesville, Plainfield, Greenwood, and Lawrence.
For more information, please visit http://www.mjattorneys.com or visit us on social media:
Facebook: http://www.facebook.com/mjattorneys
Twitter: @massjeter