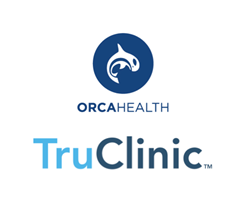 With this strategic alliance, Orca Health will be expanding its suite of tools to improve patient-provider communication, reduce the cost of healthcare, and improve surgical outcomes
Salt Lake City, UT (PRWEB) October 17, 2016
In a move to accelerate the transformation of the healthcare industry, Orca Health and TruClinic today announced a strategic alliance to deliver an open, cloud-based healthcare platform, leveraging Orcas' leading positions in HIPAA compliant back-end infrastructure and content management systems and TruClinic's world class telehealth platform.
Patient relationship management and care continuity will be at the center of the envisioned alliance, allowing caregivers to collaborate closely with their patients while also providing point of care interactive medical content.
TruClinic has developed a HIPAA/HITECH compliant Software-as-a-Service ("SaaS") that gives healthcare institutions, clinicians and patients an easy-to-access, secure online platform to provide and receive care at any time and from any place. TruClinic is a modular, cloud-based telemedicine platform that combines video collaboration with clinical workflow management solutions and compatibility with a host of medical examination cameras, medical microphones and biometric & biofeedback devices to help healthcare providers better serve their patients.
Orca Health's Branded Patient Experience platform will enhance patient engagement, education, satisfaction, and adherence to improve medical outcomes. Patient compliance with physician instructions is one of the primary determiners of a good surgical and treatment outcome. Orca Health's provider solution Care uses 3D animations, conditions and procedures to increase patient understanding by activating multisensory learning during the clinical visit and a home. Orca Health's patient solution Care Plan delivers the patient's treatment plan through Orca's Cloud directly to their home to be reviewed with family and caregivers.
"With this strategic alliance, TruClinic is continuing to expand our "Best in Class" ecosystem of partners that allows our customers to choose what they need to provide the right type of telemedicine regardless of the clinical use cases, staff workflows or subset of patients", said Justin Kahn, CEO of TruClinic. "The ability now for a patient to receive point of care specific medical information and content, and then have the ability to follow-up virtually with your own healthcare expert is transformative in how patients will interact with their healthcare professionals in the future. Together with Orca Health, we have a tremendous opportunity to deliver healthcare information and connectivity to a healthcare professional to improve the outcome and satisfaction of a patient."
"With this strategic alliance, Orca Health will be expanding its suite of tools to improve patient-provider communication, reduce the cost of healthcare, and improve surgical outcomes." said Matt Berry, CEO, Orca Health, Inc. "Together with TruClinic, we are creating an ability for our customer's patients to connect virtually, and directly to them in a HIPAA compliant way that will benefit everyone involved with the care of the patient."
TruClinic and Orca envision that the combined offering will help providers and their patients to easily adopt technology at the point of care that increases patient access, understanding, and outcomes of their medical condition. Combined, this strategic alliance will directly reduce the cost of the continuation of care and improve orthopedic surgical outcomes with patient activation during this phase of transition from fee for service to fee for value reimbursement changes.
For further information, please contact:
Brian Russon
TruClinic
Tel.: +1 (801)643-4995
E-mail: brusson(at)truclinic(dot)com
Matt Berry
Orca Health
Tel.: +1 (650) 684-8600
E-mail: matt(at)orcahealth(dot)com
About TruClinic:
TruClinic™ provides web-based telemedicine solutions for providers and organizations in the healthcare industry. The company offers a secure, high definition video communication system, as well as a suite of practice management products that extend the reach of healthcare practices. TruClinic's mission is to making telemedicine available to everyone by providing simple, secure and convenient solutions. Follow us on Twitter(@TruClinic) or visit us online at TruClinic.com.
About Orca Health, Inc.:
Orca Health provides a cloud-based patient engagement platform that advances shared decision making, improves patient satisfaction, and surgical outcomes. The company uses multi-sensory learning tools to better educate the patient at the point of care and along the continuum of care. Follow us on Twitter (@OrcaHealth) or visit us at OrcaHealth.com.