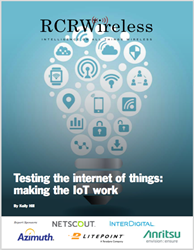 There are so many wireless technology and standards choices that impact test cost. It's important to understand them all.
Austin, Texas (PRWEB) October 18, 2016
RCR Wireless News spoke with experts across the internet of things ecosystem for their views on current trends and challenges in IoT testing, including Frost & Sullivan, AT&T, LitePoint, Rohde & Schwarz, NetScout, Nokia, InterDigital, Digi International, Qualcomm, Actility, 2J Antennas USA, ICSA Labs – an independent division of Verizon and more.
The report, entitled "Testing the Internet of Things: Making the IoT Work", contains insight into the latest market predictions for IoT growth and how the cost and challenges of testing are impacting adoption of IoT across vertical markets. From small and inexpensive sensors to connected vehicles, the IoT represents new challenges for characterizing, performance-testing and certifying new types of wireless devices. Over-the-air testing is taking on new significance, and ensuring long-lived batteries life is becoming even more important. New standards are emerging for which, in some cases, test equipment and test cases don't even exist yet. All of this is happening while millions of IoT devices are connecting to wireless networks each day, and billions more are expected to come online over the next few years.
Balancing the cost of test and demand for reliability always involves tricky trade-offs.
Download this report to learn:

The state of the IoT market and predictions on its growth
Challenges and common pain points in IoT testing, design, development and deployment, from antennas and RF design to network communications
Factors that play into return on investment in IoT design and testing
The impacts and potential opportunities due to standards proliferation in IoT
Bonus: Supplier guide for IoT testing companies
Watch the complimentary editorial webinar featuring:

Kelly Hill, Editor, Test and Measurement, RCR Wireless News
Mariano Kimbara, Industry Analyst –Measurement and Instrumentation, Frost & Sullivan
George Japak, Managing Director, ICSA Labs – an independent division of Verizon
Michael Starsinic, Member of Technical Staff, InterDigital
Brad Robbins, President, LitePoint
Vikram Saksena, Office of the CTO, NetScout
"IoT testing is part of many choices that are facing companies which want to enter the IoT space, whether that is through adding connectivity to an existing product, designing a new product or deploying IoT devices," said Kelly Hill, editor at RCR Wireless News. "There are so many wireless technology and standards choices that impact test cost, from the question of using a chipset design versus a module, to component selection and even how sleep mode affects functionality and network communications. There is definite potential that the industry may move closer to self-certification to address costs for IoT testing, and partnerships are crucial for companies who don't have RF and wireless network expertise."
Click here to download the report.
About RCR Wireless News
Since 1982, RCR Wireless News has been providing wireless and mobile industry news, insights, and analysis to industry and enterprise professionals, decision makers, policy makers, analysts and investors. Our mission is to connect, globally and locally, mobile technology professionals and companies online, in person, and now on video. Our dedication to editorial excellence coupled with one of the industry's most comprehensive industry databases and digital networks leads readers and advertisers to consistently choose RCR Wireless News over other industry publications. http://www.rcrwireless.com