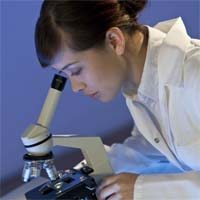 The low-grade tier had a higher overall survival with a median of 11.9 years...
Raleigh, NC (PRWEB) October 15, 2016
Scientists at three US Cancer Centers have unveiled a new system for predicting survival in people with the epithelioid form of peritoneal mesothelioma. Surviving Mesothelioma has just posted an article on the new system. Click here to read it now.
Doctors at Wake Forest Baptist Health, the University of Mississippi and Memorial Sloan Kettering used a 2011 pleural mesothelioma grading system as a guide. The system involves microscopic examination of peritoneal mesothelioma cells by a pathologist.
"The low-grade tier had a higher overall survival with a median of 11.9 years and 57% at 5 years when compared with the high-grade tier with a median of 3.3 years and 21% at 5 years," write lead author Karl Valente, MD, in the American Journal of Surgical Pathology.
Mesothelioma patients in the lower tier also tended to live longer without disease progression after cytoreductive surgery and intraperitoneal chemotherapy than did people in the higher tier.
"Until now, there has not been a reliable grading system for peritoneal mesothelioma, largely because few cancer centers have a large enough cohort of this rare asbestos cancer," says Alex Strauss, Managing Editor for Surviving Mesothelioma. "This is potentially a very important development in the treatment of peritoneal mesothelioma."
To read more about the new grading system, including how it differs from staging of peritoneal mesothelioma, see New Mesothelioma Grading System May Lead to More Accurate Prognosis, now available on the Surviving Mesothelioma website.
Valente, K, et al, "A Histomorphologic Grading System that Predicts Overall Survival in Diffuse Malignant Peritoneal Mesothelioma with Epithelioid Subtype", September 2016, American Journal of Surgical Pathology, Volume 40, Issue 9, pp 1243-1248, http://journals.lww.com/ajsp/Fulltext/2016/09000/A_Histomorphologic_Grading_System_That_Predicts.9.aspx
For nearly ten years, Surviving Mesothelioma has brought readers the most important and ground-breaking news on the causes, diagnosis and treatment of mesothelioma. All Surviving Mesothelioma news is gathered and reported directly from the peer-reviewed medical literature. Written for patients and their loved ones, Surviving Mesothelioma news helps families make more informed decisions.