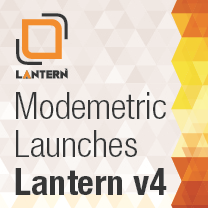 According to Erik Hoogerhuis, VP of Sales and Marketing at Cetrus, "Lantern's simple interface and dynamic metadata-driven architecture lets us provide our customers with reporting templates for repeatable analytic use cases, and drillable dashboards.
San Francisco, California (PRWEB) October 18, 2016
Modemetric Inc., today announced the version 4 release of their flagship BI product, Lantern™. Lantern is an Enterprise-grade business intelligence (BI), advanced analytics and real-time data integration solution with multiple deployment options, enabling users to quickly and easily design and generate complex reports, dashboards and data analysis from all data sources throughout their organization. This latest release of Lantern is based on a dynamic metadata architecture which ingests and analyzes massive volumes of data, reduces processing and implementation times and provides a self-service BI environment. This accelerates time to insight through compelling dashboards and visualization for line of business, along with centralized data governance and security for IT.
Highlights of Lantern's v4 release include:

Advanced date and time dimensions which enable end users to create dynamic dashboards, define custom calendars, analyze and view data for multiple date and time fields
Code mapping which allows users to effortlessly contextualize data coming from different coding schemes across applications
Real-Time Data integration based on a built-in connectivity module, which allows users to connect all applications and data sources without the need for an in-program memory store or external data archiving.
According to Ahmad Raza, Modemetric's CEO: "With v4 of Lantern, our users can connect to multiple systems where the data is cleansed or "prepared", meaning our customers get the most accurate, real-time information available to them in context, so they can quickly make effective decisions and realize positive outcomes."
Naubahar Bottling Company (NBC Pepsi), one of the largest Pepsi franchises in the Asia, Middle East and North Africa (AMENA) region, recently completed its roll-out of Lantern to create and manage their reports and dashboards originating from their legacy ERP and production systems. The Lantern Platform replaced their previous time and labor-intensive outsourced reporting process, which relied on immense amounts of custom code to pull data from on-premise systems into SAP Business Objects and Crystal Reports—often taking weeks or months.
In just 7 days, a single Modemetric BI implementation consultant deployed the first set of dynamic reports for NBC Pepsi using the Lantern BI Platform. This set included critical NBC Pepsi reporting requirements that prior to Lantern had taken months of development time, without going live. The entire set of Lantern dynamic reports deployed in 7 days would have taken over 6 months with the suite of SAP tools NBC Pepsi was utilizing prior - a 90% savings in time and costs. "We are always seeking to improve the quality, accuracy and insightfulness of our data coming from a host of business-critical sources, and Lantern helps us take that information to predict trends, uncover opportunities and improve competitive advantage" remarked Azam Jawaid, GM of NBC Pepsi.
The Lantern BI Platform was also recently selected by Cetrus, a high-tech provider of Software-as-a-Service (SaaS) monitoring software for their internal reporting and dashboards. Cetrus also chose Lantern to complement their core offering, Process Meter, the first and only real-time platform for monitoring all desktop applications, designed to enable businesses to increase revenue, lower their license costs and increase business efficiency.
Lantern allows Cetrus customers seeking to maximize their software licensing value to get dynamic real-time reports on concurrent software license use status, license use comparisons and license audits, software inventory status and change history. "Lantern's simple interface and dynamic metadata-driven architecture lets us provide our customers with reporting templates for repeatable analytic use cases, and drillable dashboards for data visualization in one secure solution.  Our business-centric users are literally one click away from the information they need," said Erik Hoogerhuis, VP of Sales and Marketing at Cetrus.
About Modemetric
With over 9 years innovating patented BI technology, Modemetric has grown to a multi-national company with offices in the US and Pakistan. Modemetric's flagship product, Lantern, is an enterprise-grade Business Intelligence (BI), data integration, and Advanced Analytics solution, comprised of a software suite which can be deployed as a plug-and-play on premise appliance, a VMware image or within a Cloud environment. The software is designed to enable users without technical knowledge to design and generate complex reports, perform data analysis, and design dashboards. Lantern provides exceptional power and ease of use without compromising data governance and security. For more information, please visit http://www.modemetric.com.
For media inquiries, please contact:
Adrian van Haaften
CMO, Modemetric
press(at)modemetric.com