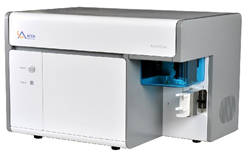 A high performance, affordable systems for everyone.
San Diego, CA (PRWEB) October 17, 2016
With the addition of a 561nm laser to its NovoCyte cytometers, ACEA Biosciences expands its product configuration capabilities. The two NovoCyte yellow laser system models (NovoCyte 3000 VYB and 3000 RYB) now give customers the ability to excite yellow and green fluorophores of conjugated antibodies, increases instrument sensitivity, and expands NovoCyte's capacity for the simultaneous detection of multiple fluorescent proteins.
"As the NovoCyte flow cytometer continues to be adopted by academic and industry laboratories, ACEA Biosciences is aggressively meeting the demands of ever broadening flow cytometry applications," says Rene Nunez, Sr. Product Marketing Manager at ACEA. "The introduction of the yellow-green laser option has further increased the flexibility of the NovoCyte brand of flow cytometers – high performance, affordable systems for everyone."
For more information about the new yellow laser system, click here.
About ACEA Biosciences
Founded in 2002, ACEA Biosciences is a pioneer in the development and commercialization of high performance, cutting edge cell analysis platforms for life science research. ACEA's xCELLigence® impedance-based, label-free, real-time cell analysis instruments and NovoCyte flow cytometer are used in pre-clinical drug discovery and development, toxicology, safety pharmacology, and basic academic research. More than 2,000 instruments have been placed globally, leading to >1,200 peer reviewed publications. For more information, [click here.
For further information, please contact:
ACEA Biosciences, Inc.
Rene Nunez
Phone: 1-858-724-0928, x3083
email: rnunez(at)aceabio(dot)com