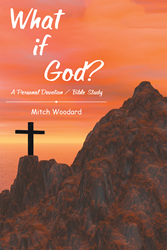 Atlanta (PRWEB) October 17, 2016
An Atlanta-area author has released his first book – a personal devotion that helps believers to establish and mature their relationship with Jesus Christ. "What if God?", by Mitch Woodard, provides scriptural references that offer a foundation for how Christians are called by God to interact with and respond to issues they face in today's culture.
Woodard wrote the book after he was continually met with difficulties in life that could not be answered by applying the surface-level lessons he had learned as a Christian. He was driven to dig deeper into the Bible, and he realized God had allowed the conflicts he faced and that their presence was necessary and good. Enabled by the Holy Spirit, the narratives that guide the book came quickly and naturally to him, and he ultimately ended up with enough topics for a year's worth of weekly devotions.
"This book is a tool that new believers can use to build a foundation with the Lord," said Woodard. "'What if God?' speaks to the responsibility of believers to respond to the culture where they are and gives the prescription to do so."
"What if God?" is a collection of 52 narratives, which are separated into 12 chapters. The book can be used weekly as a devotional guide or as the backbone to a Bible study. Woodard also recommends the book as an effective tool for new or young married couples during initial steps in their journey together.
Readers will find the narratives and scriptural references in "What if God?" to be informative and insightful, while also providing advice and commentary on issues that arise in modern everyday life.
"What if God?"
By Mitch Woodard
ISBN: 978-1-5127-4475-0 (hardback); 978-1-5127-4474-3 (paperback); 978-1-5127-4473-6 (electronic)
Available at the WestBow Press Online Bookstore, Barnes & Noble and Amazon
About the author
Mitch Woodard is a residential building contractor who also teaches Bible studies with young married men, older married couples and senior citizens. He has been married for 40 years and has three adult children and six grandchildren. In his spare time, Woodard enjoys spending time with his grandchildren, water skiing and classic car restoration. He currently resides in Forsyth, Georgia. For more information, visit http://www.whatifgod.org.
###
Review Copies & Interview Requests:
LAVIDGE – Phoenix
Danielle Grobmeier
480-998-2600 x 614
dgrobmeier(at)lavidge(dot)com
General Inquiries:
LAVIDGE – Phoenix
Kalin Batts
480-998-2600 x 524
kbatts(at)lavidge(dot)com