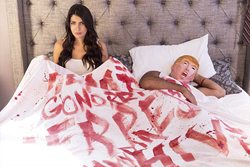 "GetTested.com makes the testing process easy and convenient, so no one has to be haunted by one-night stand ever again."
Las Vegas, NV (PRWEB) October 18, 2016
GetTested.com, a nationwide at-home STD testing service, is urging individuals to practice safe sex by getting tested this Halloween. Donald Trump once claimed avoiding STDs was his personal Vietnam. With approximately 20 million infections each year, the STD epidemic in the U.S. is a serious health crisis. In a parody for GetTested.com, costumed Trump and Hillary Clinton join forces to spread the message about the importance of STD testing.
In the new video, GetTested.com, a new service delivering at-home STD tests door-to-door, warns partygoers not to let the sexiest holiday of the year turn into their worst nightmare. To see the video, visit http://www.gettested.com/donald-trump-std-video.
"Most millennials don't visit the doctor for preventative health matters, this means there's a good chance your Halloween hookup probably hasn't been tested for STDs," says Hannah Dela Cruz, spokesperson for GetTested.com. "GetTested.com makes the testing process easy and convenient, so no one has to be haunted by one-night stand ever again."
Testing is the only way individuals can make sure they are free of STDs and not spreading infections to others. GetTested.com makes testing for seven STDs, including HIV, chlamydia and gonorrhea easier than ever. Test kits can be purchased online, and a flat rate of $199 means no unexpected lab bills. Results can be accessed through a secure HIPAA-compliant portal within a few days.
GetTested.com is a member of the PWNHealth network, a leading provider of lab connectivity, compliance, and patient outreach solutions. In the event of an HIV positive result, individuals will receive a phone consultation with a physician at no additional cost.
For more information on GetTested.com contact Hannah Dela Cruz at Press(at)GetTested(dot)com.
About GetTested.com
GetTested.com is a new service delivering at-home STD test kits nationwide. Male and female specific lab kits screen for seven of the most common STDs, eliminating uncertainty and allowing individuals to take charge of their sexual health. Samples can be collected in less than 10 minutes, and diagnoses are delivered electronically within a few days. Created in partnership with a CLIA certified and CAP accredited laboratory, GetTested.com ensures rapid but accurate results delivered to consumers' fingertips through a HIPAA compliant portal. For more information, visit https://gettested.com.