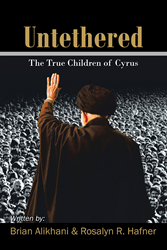 San Francisco, CA (PRWEB) October 17, 2016
San Francisco- and San Diego-area co-authors Brian Alikhani and Rosalyn Hafner have released their book, "Untethered," which delves into the political and historical impacts the Iranian Revolution had on the world as well as modern-day politics in the U.S. The book tells the story of Alikhani's journey immigrating from Iran to California to attend high school as a teenager during the late 1970s.
Alikhani and Hafner wrote "Untethered" to draw attention to the crucial events that allowed Ayatollah Khomeini, an exiled cleric, to rise to power in Iran, ultimately slinging the country into a period of darkness, Alikhani said. The authors also focus on the revolution's contribution to the rise of Islamic Fundamentalism and terrorist groups as well as the now-crucial nature of the Iranian nuclear deal, Alikhani said.
"The governments of the U.S. and its allies made serious mistakes and miscalculations during the late 1970s that continue to affect future generations worldwide," Alikhani said. "'Untethered' is the coming-of-age story of an immigrant interlaced with a unique perspective on the politics of the time."
In addition to its compelling political commentary, the book also provides a firsthand account of the struggles Alikhani faced when he could no longer return to his homeland, as it was in political upheaval.
"Untethered" offers readers a deeper look into current conflicts between the U.S. and Middle East and offers insight into world politics and the challenges faced by young immigrants to the U.S.
"Untethered"
By Brian Alikhani and Rosalyn Hafner
ISBN: 978-1-5320-0157-4 (paperback); 978-1-5320-0156-7 (electronic)
Available at the iUniverse Online Bookstore, Barnes & Noble and Amazon
About the Author
Brian Alikhani is an information technology professional and Iranian immigrant who has lived in the U.S. for nearly 40 years. He is deeply passionate about history and chess, and he currently resides in San Ramon, Calif. Rosalyn Hafner directs an editorial department for a national nonprofit organization. Aside from her love for writing, Hafner enjoys traveling to unusual places and spending time with her family. She currently resides in San Diego, Calif. For more information, visit http://www.untethered.info.
###
Review Copies & Interview Requests:
LAVIDGE – Phoenix
Danielle Grobmeier
480-998-2600 x 614
dgrobmeier(at)lavidge(dot)com
General Inquiries:
LAVIDGE – Phoenix
Kalin Batts
480-998-2600 x 524
kbatts(at)lavidge(dot)com