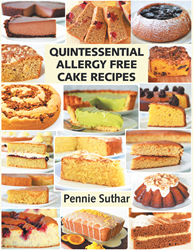 Brisbane, Australia (PRWEB) October 17, 2016
A Queensland-based author and entrepreneur has released her debut allergy-free cookbook, "Quintessential Allergy Free Cake Recipes," which offers more than 55 recipes as well as cooking tips and insightful information for those who suffer from increasingly common food allergies.
With food allergies on the rise, Suthar said, she set out in 2002, when she first opened her café in Cairns, to find alternatives to common food allergens. Inspired by her mother's deep love for nutrition and healthy living, Suthar has spent more than 13 years devising recipes and experimenting with ingredients free of milk, eggs, soy and tree nuts, among others.
"My cookbook empowers those with special dietary requirements or who suffer from multiple food allergies," Suthar said. "I want it to bring a message of hope as well as the realization that dealing with an allergy doesn't have to make everyday life difficult or miserable."
With large, full-color photographs and helpful allergen dots to guide the reader through each recipe, "Quintessential Allergy Free Cake Recipes" provides a more tailored experience than that of a typical cookbook. It will also help readers to turn family favorites they once could not enjoy into allergy-free treats.
The book will demystify the allergy-free journey of afflicted readers as well as provide independence and empowerment through its wealth of resources.
"Quintessential Allergy Free Cake Recipes"
By Pennie Suthar
ISBN: 978-1-5144-9645-9 (hardback); 978-1-5144-9644-2 (paperback); 978-1-5144-9646-6 (electronic)
Available at the Xlibris Online Bookstore, Barnes & Noble and Amazon
About the author
Pennie Suthar was raised on a self-sufficient farm in a remote area of the Herbert River Valley in Queensland, Australia. Inspired by her mother's deep affection for nutrition and healthy eating, Suthar opened an organic café in Far North Queensland in 2002. Suthar currently resides near Brisbane, Australia. To learn more, please visit her website http://www.allergyfreecakerecipes.com.
###
Review Copies & Interview Requests:
LAVIDGE – Phoenix
Danielle Grobmeier
480-998-2600 x 614
dgrobmeier(at)lavidge(dot)com
General Inquiries:
LAVIDGE – Phoenix
Kalin Batts
480-998-2600 x 524
kbatts(at)lavidge(dot)com