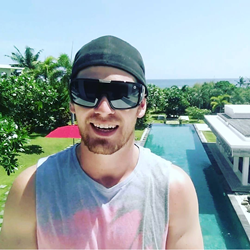 Proving that your attitude determines your altitude
Perth, Western Australia (PRWEB) October 16, 2016
Recently featured in The Huffington Post as one of the 50 must follow women entrepreneurs in 2017, Regan Hillyer is best known for her ability to draw out life's purpose in individuals as well as being the Director of a series of super high profile interviews with many of the most famous people in the world including, Arnold Schwarzenegger and Forbes listed billionaire, Sir Richard Branson. The elite business coaching market in the United States is worth a staggering $8.6 billion dollars per year. Danny Fahey has revealed that he has invested a significant amount of time and resources into shadowing his mentor and coach to accelerate the rate of growth in his brand which is now creating massive impact in a total of 5 countries with rapid blueprints for worldwide expansion.
With his message of "Where you've come from does not dictate where you're going" and an endorsed system "Think, Believe, Chase," that he teaches to transform people's lives, Danny Fahey is here to inspire, help the world to chase their dreams and "Create a better today than yesterday".
"Take the leap - the thrill is in the fall and I can promise you, it's one incredible journey. This is a true rags to riches story for a man as young as myself. It has been an incredibly enriching experience to have the opportunity to learn from a mentor who also gives back so much to the world through worthwhile philanthropic endeavours. Regan Hillyer shares my vision of passion, purpose and positively impacting the lives of millions of people." explained Mr Fahey.
About Danny Fahey:
Danny Fahey, a high energy 27-year-old Personal Trainer from Western Australia, believes that he was born for more than the "9-5". His life's mission consists of a deep desire to share his knowledge and beliefs in the hope of inspiring people around the world to chase their dreams in order to live a far more passionate existence. With his contagious passion for life, this young man is a big believe in his saying, "Be Inspired, Then Pass It On."
Danny Fahey has admitted that his childhood was deeply troubled which gives him a unique ability to be able to successfully navigate his clients through a sea of what may at first seem like impossible challenges. With his parents splitting up when he was the vulnerable age of just 2 months old and his mother kicking him out when he was only 13, Danny Fahey said these weren't even close to the biggest childhood challenges that he had to face. Yet from this young age he moved to the country, where his limited means literally had him hunt for meat that he ate. He remembers, almost at breaking point, a defining moment in his life being when a local businessman cared enough to pay it forward and give him a book entitled, "Success Through a Positive Mental Attitude," written by two of the founding fathers of the international personal development industry, Napoleon Hill and W. Clement Stone.
At a time in the world with so much adversity, it's easy to see why Regan Hillyer said "Make sure you follow him, he is an incredible person who is stepping up, he's rocking it, he's authentic, he's true, he knows what he wants and I know he's going to make a massive impact in this world. You can choose to be a part of it or not but if I were you, I'd choose to be a part of it!"
As a special offer, Danny Fahey is giving the first 1000 copies of his new book to members in his Social media group "The Journey of the Climb" that share a small introductory into their own journey.
Join his Social Media communities that always welcome success minded individuals from around the world:
https://www.instagram.com/dannyfahey/?hl=en
Sources: https://www.statista.com/statistics/296603/revenue-business-coaching-in-the-us/