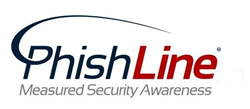 ... security awareness program managers are always looking for new, captivating content
Milwaukee, WI, USA (PRWEB) October 17, 2016
PhishLine, a leader in empowering decisive action against social engineering and phishing threats for enterprise security teams, has announced a content-provider partnership with NINJIO, a California-based company with a disruptive approach to security awareness training. This partnership will enable PhishLine's customers to access a new style of training content delivered in the form of animated, timely episodes.
Customers rely on PhishLine's Content Center Marketplace™ as a one-stop shop for a wide variety of the most innovative, fresh, and effective training materials from world-class providers. This deep catalog of training content is a critical component in connecting organizationally relevant security awareness activities/training to behavioral management initiatives.
"The partnership strengthens our one-size-does-not-fit-all strategy and provides clients with a richer set of training experiences," said Mark Chapman, PhishLine President & CEO. "End users embrace NINJIO's fun and entertaining episode-based approach, and security awareness program managers are always looking for new, captivating content."
Zack Schuler, CEO at NINJIO, comments: "PhishLine puts their customers first, and their social engineering simulations are leading the industry. We are excited about the difference that both companies can make for our clients."
About NINJIO
NINJIO is an I.T. Security Awareness Solution that produces animated episodes lasting 3-4 minutes featuring stories about real security breaches. These episodes are created and distributed every 30 days in order to educate employees about the dangers that exist in cyber security. The episodes are interactive and engaging and focus on one particular security breach with content focused on the non-technical end-user.
Learn more at http://www.ninjio.com or contact us directly at: (805) 864-1999.
About PhishLine
Headquartered in Milwaukee, WI, USA, PhishLine empowers the world's most complex organizations to provide targeted and relevant security awareness and anti-phishing behavior management training. PhishLine's unique approach to security training allows security awareness mangers to choose from thousands of security awareness training resources, while aligning the training with live-fire social engineering tests.
The goal is clear: Provide Information Security Professionals with the tools, resources, and measurement capabilities needed to overcome the ever-increasing challenge associated with social engineering and phishing threats. To learn more about why Fortune 100 and Global 2000 companies value PhishLine's thought leadership in the areas of social engineering, phishing, and risk management, visit http://www.PhishLine.com.