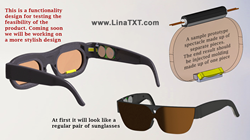 The prototype demonstrates that LinaTXT will be the next great leap forward in wearable technology
Ashkelon, Israel (PRWEB) October 16, 2016
In this age of cybernetic integration the goal is to blend real-world input, electronic images, transmitted sounds and text communication in a single seamless layered reality. Whether it is called Heads up Display (HUD,) Optical Head-Mounted Display (OHMD), Augmented Reality (AR) or personal Virtual Reality (VR) display, an easily wearable and socially acceptable method for creating this experience remains tantalizing and elusive. Benny Goldstein, CEO and President of Benny Labs Inc. has announced the release of a prototype that demonstrates that wearable, and fashionable personal Heads Up Display (HUD) Glasses are both easy to manufacture and practical to use. His unique system is called LinaTXT. And it is based on the patented Reflective Focusing Relay System which uses the power of light to overcome the difficulties with HUD technologies.
Please visit http://www.LinaTXT.com for more information.
The new LinaTXT prototype has caused much excitement among HUD enthusiasts. Goldstein relates: "The main point of the LinaTXT is easy wear-ability. The other high tech versions involve thick, clunky designs that hide a collection of microprocessors and projectors. These devices might look cool in Techno-Land, but ordinary humans prefer not to look like a cyber-rock band from the 80's. In contrast, the LinaTXT looks like a regular pair of glasses, designed for people who want to stay in the loop with their families, friends and co-workers."
Keeping the design slim was the starting principle. According to Benny "The LinaTXT system embeds the system into the eyeglass lens. That way you don't need any other bulky shapes. I started designing this product without thinking it could do a million things. Instead I thought: If I could solve one problem what would that be?" LinaTXT helps with one problem of the smartphone age: the need to look every five minutes to see messages. LinaTXT system allows users to receive text messages right into their visual fields and to stay in touch with everyone in real-time.
Excitement is high! "Until now," says Goldstein, "LinaTXT has been an idea. Many potential investors told me it's a great idea, but had doubts about real world feasibility. Can it actually work? Can it really be easily manufactured and marketed? Well, those visionary investors who have been with me since the beginning are feeling like they have found the pot of gold -- against all odds. The prototype demonstrates that LinaTXT will be the next great leap forward in wearable technology. Look for it in 2017!" If you have not yet invested in the LinaTXT revolution, it's not too late to climb on board and ride the unstoppable HUD wave right into the future!
We shouldn't underestimate the power of a line of text. In the end, just a few abstract symbols are enough to create a friendship, close a mega deal, navigate a new environment, find information, purchase items… and even save a life. "LinaTXT is easy to wear, simple to use, looks good and it does its job well… Isn't it better to do one thing really well instead of doing many things clumsily?" asks Benny. Benny and the Team at Benny Labs are certain that the future belongs to LinaTXT, and that the future is closer than we think.
Please visit http://www.LinaTXT.com for more information.