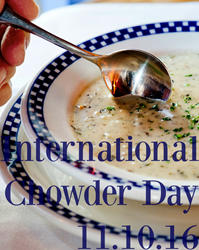 We are always happy to help where we are needed.
Seattle, Washington (PRWEB) October 31, 2016
Community service is at the cornerstone of Duke's Chowder House. Seattle restaurateur Duke Moscrip along with partner and son John Moscrip have ensured that the causes, institutions, and organizations most personal to them are also an enduring piece of his professional legacy.
The restaurant's history of service began with the Boys & Girls Clubs of America. As a young boy, Duke Moscrip spent many hours at the Boys & Girls Club of Bellevue, where his father coached.
In the mid-eighties—the early years of the restaurant—Duke's Chowder House participated in the first Seattle Chowder Cook-Off, benefiting the Seattle Alzheimer Association.
Another organization close to Duke's heart is the Children's Orthopedic Hospital. Duke's son, was born premature and spent the first six months of his life there.
On International Chowder Day (which coincides on or around Veteran's Day), Duke's donates a portion of sales that day to benefit Seattle Veteran's Hospital, part of the VA Puget Sound Health Care System. Duke's father was a World War II pilot and veteran who served 35 years in the Navy. The Veteran's Hospital nursed him back to health after surviving an airplane accident. Thousands of gallons of Duke's three-time, award-winning clam chowder are distributed as a complimentary treat to veterans. The 9th Annual International Chowder Day celebration will be held at all six Duke's Chowder House locations on November 10, 2016. Veterans receive complimentary chowder while other guests pay $1 for a small bowl. All money raised goes to the Seattle Veterans Hospital. Duke's matches every dollar and urges you to help! Duke says "Bring your friends and help support our Vets. My dad would be proud."
When the community of Oso, Washington had a devastating landslide in March 2014, Duke's organized a dinner fundraiser for the victims of the natural disaster. Notably, a baby named Duke and his mother was injured, but are both now thriving. Duke's raised more than $11,000 in an impromptu dinner that was directly donated to the American Red Cross and then Duke subsequently wrote another check to the mother of baby Duke to help with their medical expenses.
At the West Seattle Polar Bear Swim on Alki Beach held each year on New Year's Day, Duke's Chowder House serves free, hot bowls of chowder to the participants and spectators to foster a sense of camaraderie, as well as keep the community warm.
Inspired by his golfing experience as a young professional golfer, John Moscrip started Duke's Junior Golfer Scholarship that supports young men and women golfers who have both the enthusiasm and excitement for the sport. Each quarter Duke's donates $1000 to one young golfer to further develop their game.
In addition to his commitment to sustainable seafood, Duke has engaged in conservation efforts, such as planting trees along the banks of Snoqualmie River in King County, Washington. Together, Duke's team works to restore a valuable natural resource to its former abundance: when wild salmon proliferated in local rivers. Duke's continues to support Salmon Safe in this endeavor.
Duke's Chowder House often collaborates and supports Long Live The Kings, a public 501(c)(3) nonprofit organization restoring the salmon population in Northwest waters. Although Duke sources his salmon from Alaska, he is committed to helping restore wild salmon in the Northwest.
Recently, Duke's Chowder house aided the South West Seattle Historical Society with educational efforts to preserve the history of the area and promote related research. Duke affirms: "We are always happy to help where we are needed. It's wonderful to be a part of the Southwest Seattle Historical Society's efforts to preserve our history."
Duke's Chowder House would like to thank all those supporting their efforts to build a better community.
About Duke's Chowder House
Duke's Chowder House is a family owned and operated enterprise with six different locations throughout the Puget Sound region. Renowned for its Award Winning Clam Chowder, Duke's menu is filled with delectable seafood dishes crafted by Duke and Duke's very own Executive Chef "Wild" Bill Ranniger–a proclaimed culinary genius in the region. Founder and Owner Duke Moscrip – together with his son and partner John Moscrip – continue their passionate journey to source all wild, natural, healthy and fresh tasting ingredients. Duke's food is free of hormones, antibiotics and harmful chemicals. Duke's is an upscale, casual Pacific NW seafood concept offering signature, flavorful, 100% sustainable wild seafood, Award Winning Chowder and grass fed burgers. Guests sum up their favorable assessment of what Duke's Chowder House has to offer with three words: "It's sooo good!" Duke's is honored to have received the highest seafood restaurant rating in the State of Washington by Fish2Fork, a leading evaluator of worldwide seafood restaurants, garnering a 4.5 out of 5 (no higher rating in the world). Duke's is equally honored to be among the first restaurants in Seattle to be recognized with a 100 percent volume compliance sustainable seafood rating from Smart Catch, a program designed to promote sustainability and raise consumer awareness regarding sustainable seafood options. Learn more at http://www.dukeschowderhouse.com/.