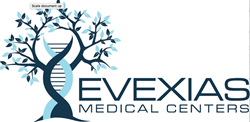 "We do so much more than hormone pellet therapy and the practice is no longer geared solely to women," Terri DeNeui, EVEXIAS® Medical Centers
Southlake, TX (PRWEB) October 17, 2016
Hormonal Health, Wellness, and Aesthetic is pleased to announce the official name change to EVEXIAS® Medical Centers. Founder Terri DeNeui says she and her husband, Dan, chose the Greek word which means "much wellness" or "exuberance about wellness." In addition to the corporate headquarters, EVEXIAS® now operates out of two locations in Southlake and Rockwall, with a Dallas location opening in 2017.
DeNeui says the expansion creates a natural transition to rebrand. "We do so much more than hormone pellet therapy and the practice is no longer geared solely to women. More men are becoming interested in wellness, especially as the effectiveness of testosterone pellet therapy has become known," Terri says.
Today, EVEXIAS® treats thousands of patients with hormone pellet therapy, as well as medical cosmetic and aesthetic treatments. The EVEXIAS® staff includes 26 individuals and five nurse practitioners who served more than 15,000 patients with over 100,000 completed medical and cosmetic procedures to date.
DeNeui started the small women's clinic nearly a decade ago after working as an emergency room nurse practitioner. "I became disenchanted with our continual band-aiding of symptoms and the way that western medicine approaches health and wellness. Nobody was grinding into how to help people stay well, become well and how to prevent disease," DeNeui says.
She collaborated with Dan to help build the business and the two entrepreneurs say they found synergy. "The key part is her brain processes information very much like my brain processes information – but in two different ways," Dan says. "Her gift is on the medical side, research and delivering the best level of patient care, and my gift is for growing businesses."
DeNeui attributes the focus on superior patient care as the most influential factor that has contributed to the growth. "Revolutionary medical therapies continue to evolve, and the EVEXIAS® team has invested several years researching and studying evidence-based technologies and therapies for our valued patients to ensure hope, healing and wellness." DeNeui says, "We are just on the forefront of a medical wellness movement."
To celebrate EVEXIAS® Medical Centers, an open house will be held soon. For more information, visit http://www.evexiasmedical.com.
About EVEXIAS® Medical Centers: The Texas-based centers are the premier industry leader and innovator of the Medical Wellness movement via superior patient care and the utilization of revolutionary, preventive and regenerative medical and aesthetic technologies. The mission is to partner with each patient to bring healing by understanding the root cause of a patient's particular health concern, and subsequently formulating an effective, individualized treatment plan, always recognizing the body, mind and spirit contribute to the overall health of humanity.
For media interviews, contact PR Manager, Tara Vreeland at 303-929-8363 or e-mail at tvreeland(at)promoteonpurpose(dot)com.