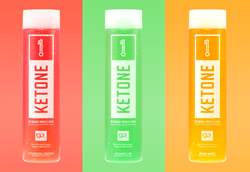 Ketone 1 is sugar-free fuel powered by ketones and electrolytes
Austin, Texas (PRWEB) October 17, 2016
Limited Labs has launched their latest nutritional product: Ketone 1 Sports Drink. Filling a gap in the current nutrition market, Ketone 1 will become the world's first ketogenic sports drink.
Ketone 1 is sugar-free fuel powered by ketones and electrolytes. Formulated with no sugar and no artificial flavors, Ketone 1 energizes, improves cognition, and supports healthy weight management. Instead of using caffeine or carbohydrates for fuel, Ketone 1 is formulated with 11,000mg of beta-hydroxybutyrate. The innovative sports drink will be available in three citrus flavors: Orange Mango, Strawberry Lemonade & Cucumber Lime.
Limited Labs has formed a partnership with Compound Solutions, the makers of goBHB™ Beta-Hydroxybutyrate Ketones, to bring the first ready-to-drink ketogenic supplement to the market. Ketone 1 is ideal for driven athletes (especially endurance athletes), gym rats, or even the office warrior.
Ketone 1 is being launched as a crowdfunding campaign on Indiegogo.com. In the campaign, Limited Labs is rewarding initial backers with Ketone 1 at below-wholesale prices. The company expects to reach their funding goal of $25,000 quickly, as the feedback has been tremendous in the campaign's already very public build-up.
Ketone 1's Indiegogo campaign is live at https://igg.me/at/ketone1
About Limited Labs
Limited Labs creates cutting-edge nutritional products while integrating innovative technologies into a lifestyle that continuously pushes the envelope of human biological limitations. More information on the company and their other nutritional products can be found at ltdlabs.com.
*These statements have not been evaluated by the Food and Drug Administration. This product is not intended to diagnose, treat, cure, or prevent any disease.