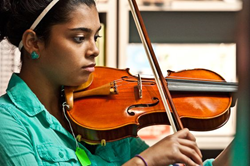 If you're a musician, young or old, it's like being a kid in a candy shop at these events.
Frederick, Md. (PRWEB) October 17, 2016
Leading school music retailer, Music & Arts, announced it will launch 30 instrument pop-up events across the country between now and the end of the year. The event tour, called Upgrade Your Sound, will feature hundreds of instruments by dozens of major music brands including Conn-Selmer, Yamaha, Fox, Buffet, Jupiter, Eastman, and more. The event is free to the public.
"If you're a musician, young or old, it's like being a kid in a candy shop at these events," said David Fuhr, vice president of sales, Music & Arts. "Thanks to our great music partners, we're able to put on such a large event. It would be tough to find a bigger assortment of instruments under one roof at the prices we'll be offering."
The Upgrade Your Sound tour will include two types of events: Horns of Plenty will offer a large selection of woodwind and brass instruments while String Showcase events will be exclusive to orchestral instruments. All events will offer discounted prices and limited-time financing options.
"It can be extremely beneficial to invest in better gear as you continue to grow as a musician," said Tim Ricci, director of merchandising, Music & Arts. "Little things like the material the instrument is made of or the type of mouthpiece you use all matter when it comes to your sound and technique. And, the great thing about an event like this is it allows you to try out a bunch of different options all at once so you're able to find the best instrument for your playing style."
Those not near an Upgrade Your Sound event can still try out intermediate and professional-level instruments at any of Music & Arts' more than 145 stores across the country. The company will stock its stores with a selection of upgraded instruments and accessories featured on the tour from now until the end of the year.
For more information about Upgrade Your Sound or to find an event nearby, visit MusicArts.com/UYS.
###
About Music & Arts
The first Music & Arts was founded in 1952 by Benjamin O'Brien; it was located in a small house in Bethesda, MD. Today, Music & Arts is the largest school music retailer in the country with more than 500 retail and affiliate store locations and 120 educational representatives nationwide. Additionally, the company is the largest private and group music lesson network in the U.S. teaching more than 1 million lessons a year. Headquartered in Frederick, MD, the company, made up of skilled musicians, offers friendly service for everything musical in your life including: instruments, lessons, rentals, and repairs. For more information, visit MusicArts.com.