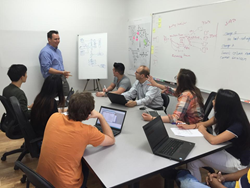 We put our employees first, every day.
New York, NY (PRWEB) October 17, 2016
Eccella Corporation ("Eccella"), a Data Management and Data Analytics solutions company, announced today that it was ranked one of the best workplaces in the United States in Fortune magazine's Great Place to Work® 2016 Best Small & Medium Workplaces list.
Eccella won this accolade based on employees' anonymous responses to an extensive survey about their levels of trust, pride and camaraderie at work. Great Place to Work® reviewed the survey results of more than 52,000 employees from hundreds of companies in the ranking process. This is a great achievement to the company, ranking on the list for the first time.
"We are very proud to be among the best places to work in the country," Guy Gotslak, US Director said. "We put our employees first, every day. At Eccella this translates to competitive compensation plans, best-in-class training programs, and the full support, day in and day out, of the entire team. Work at Eccella is very rewarding as we help change the way individuals and companies around the globe use data to make better, more informed decisions. But that alone is not enough, and maintaining a fun culture that puts the employee at the center, with free Friday lunches, team trips, social activities and other perks is Eccella's key to success!"
About Eccella:
Founded in 2010, Eccella Corporation is headquartered in New York City, with additional offices in London and Mumbai. Eccella specializes in Data Management and Analytics and has partnered with the leading software vendors to provide advisory, solutions and implementations services to organizations of all sizes, across multiple industries. Eccella's goal is to help its clients craft the best data strategy for their organization and implement solutions in support of their operational needs and growth goals.
About Great Place to Work®:
Great Place to Work® is the global authority on high-trust, high-performance workplace cultures. Through proprietary assessment tools, advisory services, and certification programs, including Best Workplaces lists and workplace reviews, Great Place to Work® provides the benchmarks, framework, and expertise needed to create, sustain, and recognize outstanding workplace cultures. In the United States, Great Place to Work® produces the annual Fortune "100 Best Companies to Work For®" and a series of Great Place to Work® Best Workplaces lists, including lists for Millennials, Women, Diversity and over a half dozen different industries.