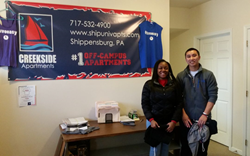 NFC technology succeeds in allowing a better, more connected living environment throughout Madison & Creekside apartments.
Shippensburg, PA (PRWEB) October 17, 2016
The exciting 1200 to 1500 square foot Madison & Creekside apartments are the perfect living space for any college student. Each resident who lives in these apartments will now be exposed to the newest, most innovative technology. Located within walking distance from Shippensburg University, Hot Point Bar and Grille, Sheetz, and Wibs Restaurant & Bar, each building has a centralized open covered breezeway for socializing. In addition, a numerous amount of parking lots are available to residents. Each fully furnished apartment includes 3 or 4 private bedrooms and bathrooms. The top of the line units include granite countertops & stainless steel appliances. Every unit includes a washer & dryer, high speed internet, and much more. With the many included benefits, amazing location, newly constructed units and competitive pricing you won't find a better living situation to foster your college lifestyle in Shippensburg than Madison/Brookside Court or Creekside Court Apartments.
Recently, Madison & Creekside apartments became the first apartment complex to become NFC enabled. NFC (Near Field Communication) is simply a short-range wireless technology. It allows consumers around the world to make transactions, exchange digital content, and connect electronic devices simply and effortlessly with a touch. This technology is allowing management to connect with their residents easily and painlessly and at the same time it encourages residents to stay involved and connected throughout their stay in Madison & Creekside.
With this added technology, students can now place their phones on a small, square sticker that will direct them to a specific source. This sticker has a built-in chip programmed to allow the user's phone to "tap it" to learn more information, download related material, etc. In Madison & Creekside's case, tapping your phone onto the sticker will prompt you to download their app. It's simple, easy and requires nothing but a cellphone and a quick touch.
The NFC tags can do much more than just directing students to an app. It will also allow residents a chance to tap to call 24/7 maintenance or take a survey/poll that management can use to make decisions about the property based on the results that they get. The chips can be altered to direct students to any desired location, survey, etc. NFC technology succeeds in allowing a better, more connected living environment throughout Madison & Creekside apartments.
Students and residents of Madison and Creekside apartments can interact with and learn more about these NFC devices by walking into one of the offices and either tapping or scanning their phones on one of the stickers.
Property manager of Madison & Creekside apartments Casey Bender stated that, "We are very excited about our new partnership with Purple Deck! We are excited to use this technology to connect with our residents and allow them to quickly be prompted with our app and the awesome local coupons!"