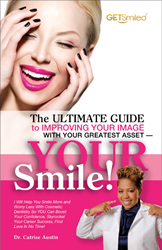 One of secrets to having a polished image is to have a clean and healthy looking smile. This alone can take your career, social, or love life to the next level.
New York, New York (PRWEB) October 17, 2016
October is National Dental Hygiene Month, a time for all consumers to review their oral health habits and to consider visiting their dentist for a check-up, cleaning, and also to improve their image with cosmetic dentistry.
Celebrity dentist and author Dr. Catrise Austin is always ready to serve not only her private dental clients, but the community at large by frequently sharing tips about oral health and the importance of a beautiful smile via her popular Facebook videos, books, and public speaking appearances. Dr. Austin says, "One of secrets to having a polished image is to have a clean and healthy looking smile. This alone can take your career, social, or love life to the next level."
When you visit her private dental practice located on New York City's 57th Street (Billionaire's Row), you'll find that she has a trained staff that goes the extra mile when it comes to dental hygiene. Dr. Austin urges consumers not to ignore the warning signs of gum disease at home. Red, swollen or tender gums; Gums that bleed with brushing; and recurring bad breath are all key signs of gum disease according to Dr. Austin. She reports that in her practice, 75% of her new patients have gum disease and don't even have a clue until after the assessment of the health of their gums has been completed. Dr. Austin regularly educates the masses that regular professional visits are key to maintaining good oral health, fresh breath, and a beautiful smile. Dr. Austin takes the time to perform a 4 step gum evaluation on each and every patient in her practice. Here's how it works:
Step 1, Dr. Austin does a thorough evaluation of each tooth checking for cavities, defective fillings, and tooth mobility.
Step 2, she checks the gum tissues for redness, swelling, abscesses, as well as for oral cancer lesions.
Step 3, x-rays are taken to detect hidden tartar and bone loss due to gum disease.
Step 4, Dr. Austin measures the spaces between your teeth and gums (these are called "pockets") to see if the pockets are shallow, cleansible, and do not bleed upon touch (healthy) or if the pockets are deep, traps food/bacteria, and bleed upon touch (unhealthy).
Based on the results of her examination, Dr. Austin is then able make an accurate diagnosis of her patients' gums and customize a professional gum therapy plan that individual patient. The good news is, early gum disease such as gingivitis is completely reversible with professional treatment and oral home care. Brushing frequently and most importantly flossing are the habits that she teaches her patients to do at home between visits. Once her patients are educated on the importance of keeping their pockets cleaned by flossing at home, Dr. Austin reports that she usually see's a major improvement when they return for check-up visits. Visiting a dental hygienist and dentist team every six months or as recommended (some people need to visit every 3-4 months), is vital in maintaining healthy teeth and gums. If left untreated, early gum disease can lead to a more serious form of gum disease called periodontitis which can result in tooth loss and other life threatening health problems. For those patients who are interested in enhancing the appearance of their smile, keep in mind that health comes before beauty.
Speaking of a beautiful smile, in celebration of October's National Dental Hygiene Month, Dr. Catrise Austin has released her new cosmetic dentistry self-help book called "Get Smiled! – The Ultimate Guide To Improving Your Image With Your Greatest Asset- YOUR SMILE!" to reveal exactly how consumers can experience a huge boost of confidence and overcome feeling unhappy, insecure, held back, and even lonely because of their smile. To learn more and to purchase a copy of "Get Smiled! – The Ultimate Guide To Improving Your Image With Your Greatest Asset- YOUR SMILE!", visit Amazon.com today. In addition, for the remainder of this month Dr. Austin is offering a dental special that will help patients in need of an affordable dental check-up and cleaning. Simply visit http://www.vipsmilesny.com to apply for Dr. Austin's exclusive $99 GetSmiled Smile Makeover Image Booster Package which includes: a dental check-up, x-rays, basic dental cleaning, a free smile makeover consultation, and a 10% discount card to be used for any Philips Sonicare Toothbrushes or BreathRx Products, Waterpik products, and more (Valued at $650).
About Dr. Catrise Austin:
Cosmetic dentist Dr. Catrise Austin is a trailblazing expert in the field of dentistry. Dr. Austin is not only the author of multiple dental books for consumers, she is also a professional speaker on dentistry and business topics, currently serves as a national brand spokesperson for Colgate Total, and was recently voted as one of the "Top 25 Women In Dentistry." Her boutique cosmetic dentistry practice, New York City Cosmetic and General Dentistry, located in the heart of 57th Street's "Billionaire's Row" in New York City. Her practice specializes in the latest smile makeover techniques including teeth whitening, porcelain veneers, cosmetic braces, dental implants, and more. For more information about cosmetic dentistry and oral hygiene or to book Dr. Austin for an appointment, media appearance, or to speak at your next company or organization event, call 212-262-6054.