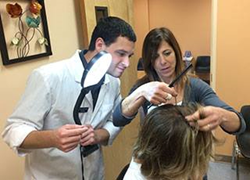 Beating a lice infestation takes systematic, meticulous manual removal of viable bugs and nits. No-short cut methods or "magic" devices will work.
Darien, CT (PRWEB) October 18, 2016
There has been a lot of publicity across the nation about "Super Lice"-- head lice that have become resistant to the most frequently used permethrin-based treatment products.
Recently, at the opening of a Lice Treatment Center• (LTC) location in Darien, CT, Dr. Elin Cohen and Elizabeth Solovay discussed the impact of super lice on the lice treatment industry. Dr. Cohen,LTC's medical director, is a Harvard-educated pediatrician and authority on lice treatment and prevention.Yale-educated business woman, Liz Solovay, runs the day-to-day operations of LTC® nationally as well as its growing franchise division. The partners confirmed that as a result of the spread of resistant lice, a wide variety companies offering lice treatment has emerged--ranging from "one person shows" to some regional and national chains.They include in-home treatment services as well as store fronts that use a lot of different tools and sometimes questionable methods. There are also scores of products and devices for sale that claim to "cure" head lice--many of which are unproven or controversial.
Dr. Cohen and Ms Solovay founded the Lice Treatment Center, LLC (LTC®) in 2005 to provide a safe, non-toxic, all-natural way to deal with head lice infestations. Dr. Cohen formulated LTC's proprietary all-natural line of treatment and repellent products and designed the systematic, propriety methodology used by LTC's roster of certified technicians (or "nit pickers). Dr.Cohen said,"LTC's treatment protocol is key the company's success because the only way to ensure effective elimination of a lice infestation, is meticulous, manual removal of the nits, which are very tiny and firmly glued to hair strands. Nits must be manually removed or within 7-10 days they will hatch and become a new infestation of live lice. Leaving even one nit behind can turn into a vicious cycle.
However, one national company uses a lice removal device called AirAllé® which, the company claims, will kill live lice and 99.2% of their eggs in a process that takes only 60-90 minutes or only one treatment...and no painstaking nit-picking is required." But, according to Dr. Cohen, "... the company's description is misleading because without painstaking nit-picking, the .8% of lice nits/eggs that remain on the head will hatch and multiply into a full-blown infestation. No mechanical device is capable of completely eliminating all head lice and their nits."
Ms Solovay also pointed out that the lice company's ad omits the specific instructions found on the AirAllé device's own website that read: "AirAllé technicians will do a post-treatment comb-out (which usually takes 30 minutes)...to remove the dead lice and eggs." In other words, technicians using the device will have to do manual "nit picking." The AirAlle's website also states that, "Most technicians will then apply a post-treatment rinse using dimethicone oil to kill any remaining hatched lice that may have survived the treatment." According to Ms Solovay, "These post-treatment directions are disturbing because dimethicone-based oil is itself controversial. It is not all-natural. It is a man-made silicon oil found in many personal care products, including skin protectants and hair conditioners, and known to have side effects including allergic reactions."
In summary, Dr. Cohen emphasized, "Expensive, fancy tools and blowers and harsh chemicals may help kill live bugs but the only way to ensure a complete and safe end to a lice infestation—even super lice—is to use non-toxic, all-natural products while manually removing (nit-picking) the eggs before they hatch."