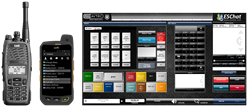 Mission Critical ESChat will leverage our experience to provide the best fully integrated MCPTT and P25 solution available.
San Luis Obispo, CA (PRWEB) October 18, 2016
ESChat is the nation's leading carrier independent and secure PTT over LTE solution and is used by the U.S. Military, as well as federal, state & local law enforcement and first responders. SLA's Mission Critical ESChat (MC-ESChat) will maintain compatibility with existing cloud and private ESChat servers and will also interoperate with 3GPP compliant Application Servers from all MCPTT vendors.
Since 2008 ESChat has provided encrypted Push to Talk over Cellular capability to first responders. ESChat is available through SLA's GSA contract and is also sold by U.S carriers Verizon Wireless and AT&T as well as numerous LMR radio vendors. The ESChat product is a fully integrated solution that includes AES-256 encrypted Push to Talk (PTT) Voice, encrypted group messaging (text and images) and both live and historical location tracking and mapping.
The Mission Critical version of ESChat adds capability for users to operate on any FirstNet MCPTT Application Server while maintaining ESChat's current carrier independent secure PTT service. Leveraging QoS (Quality of Service) offerings now available from U.S. carriers, ESChat is currently able to offer its customers the benefit of carrier integrated MCPTT plus the ability to interoperate between carriers. As the feature evolution of 3GPP MCPTT continues, ESChat will provide full compliance including eMBMS based multicast, IOPS, ProSe and IMS based Application Server interoperability. ESChat has also committed to participating at ETSI's first MCPTT plugfest that will allow MCPTT vendors to test MCPTT system interoperability.
Over the past 20 months ESChat has been tested by first responders on numerous FirstNet Band 14 deployments. These include FirstNet Colorado (2015 Alpine World Ski Championships and XPSLTE), New Mexico FirstNet (2015 and 2016 New Mexico State Fair, 2015 and 2016 International Balloon Fiesta and the 2016 Zozobra Festival), Harris County TX (2015 Houston Livestock Show and Rodeo) and LA-RICS (2016 Tournament of Roses Parade). Additional events are planned for 2016 and 2017.
"Using ESChat on the Band 14 public safety broadband networks has provided valuable insight to better serve first responders as they develop their FirstNet deployment strategies," said Josh Lober, President SLA Corporation who makes the ESChat product. As public safety agencies begin the process of augmenting their LMR networks and/or transitioning towards LTE based MCPTT, P25 to LTE integration will play a key role in ensuring a smooth transition. ESChat's ISSI interface to the P25 radio network is available as a service that is hosted locally or in the cloud. This capability provides a software-only interface that does not require an incremental capital investment. The ESChat implementation of the ISSI interface is full featured and supports multiple call types between the LTE and P25 networks including Private Calls, Group Calls and Emergency Calls. System-wide display of P25 and LTE unit ID's is also supported. "As we prepare for release of Mission Critical ESChat, we will be able to leverage all our experience to provide the best fully integrated MCPTT and P25 solution available," Lober continued.
Further enhancing the interoperability experience is ESChat's integrated location tracking and mapping capability. Currently, ESChat users on 3G/4G/WiFi networks can view the real-time location of their ESChat contacts and groups. ESChat is enhancing its ISSI offering to include the ability for the ESChat users to also view the location of P25 radio users. This feature set will provide the most advanced real-time integrated communication and situational awareness platform available.
About SLA: SLA's ESChat (http://www.eschat.com/) is the leading solution for carrier independent secure Push to Talk (PTT) over LTE communications. SLA is celebrating its twenty fifth year in the wireless communication industry providing solutions for military, government, industrial and commercial applications. SLA's cellular experience includes first generation (1G) analog through fourth generation (4G) LTE infrastructure design.