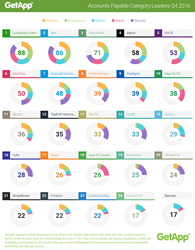 QuickBooks Online scored 88 points, reflecting their strong user reviews, as well as their notable mobile platform capability, scoring an even 20 in this area
Barcelona, Spain (PRWEB) October 18, 2016
QuickBooks Online has maintained the lead in GetApp's ranking of the top 25 Accounts Payable solutions for the second consecutive quarter, followed closely by Xero and Zoho Books in second and third place, respectively.
GetApp's Category Leader rankings are designed to provide a comprehensive overview of the leading apps in the cloud software market. Scoring is based on five key areas worth 20 points each, for a total possible score of 100. These key areas include user ratings, mobile app availability, integrations, media presence, and application security.
"QuickBooks Online scored 88 points, reflecting their strong user reviews, as well as their notable mobile platform capability, scoring an even 20 in this area," says Suzie Blaszkiewicz, project manager for the ranking. "Their integrations score also helped them stay on top of the ranking for Q4 2016. Xero in second place, and Zoho Books in third, also deserve a mention, with Xero just 2 points behind QuickBooks Online, and Zoho Books managing to bring their score up from 65 to 71 over the quarter".
Click through to see the entire Q4 2016 Category Leader ranking of the top 25 accounts payable solutions.
More about GetApp: GetApp is the leading premium business app discovery platform on the web. Headquartered in Barcelona (Spain), GetApp serves as a platform for user-generated and editorial reviews of software and apps for businesses.
###