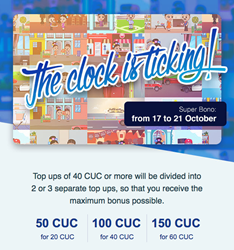 This month, the Super Bono offer is valid between 17 - 21 October.
Atlanta, Georgia (PRWEB) October 17, 2016
The monthly Cubacel promotion is back on HablaCuba.com with the famous Super Bono offer. As they already know by now, customers get the best value for their money with HablaCuba.com: a maximum bonus of 90 CUC. Every recharge between 20 CUC and 60 CUC is rewarded with a Super Bono, as follows:

For 20 CUC recharges, customers will send 50 CUC
For 30 CUC recharges, customers will send 60 CUC
For 40 CUC recharges, customers will send 100 CUC
For 50 CUC recharges, customers will send 110 CUC
For 60 CUC recharges, customers will send 150 CUC
This month, the Super Bono offer is valid between 17 - 21 October. Top ups of 40 CUC or more will be divided into separate top ups, so that customers receive the maximum bonus possible..
And that's not all! Customers can get a free top up of 20 CUC by participating in a contest on HablaCuba.com's Facebook page: http://www.facebook.com/HablaCuba. All they need to do is submit a comment with the name of a song that gets their party started.
The winner of the competition will be chosen randomly. He/she will receive a free 20 CUC recharge that will benefit from the Super Bono promotion, so the final amount of the prize will be 50 CUC. The contest is open by October 18th and everyone is invited to participate.
After sending a recharge with HablaCuba.com, customers can let their family and friends in Cuba know that they will receive a top up gift from them through a free text message. With each recharge, HablaCuba.com is offering customers a free SMS sent to the number they are recharging.
Plus, starting this year, Nauta Internet accounts in Cuba can be recharged with HablaCuba.com. Therefore, anyone can recharge a Nauta account from abroad, so that their family or friends in Cuba can use the Internet from their own devices.
HablaCuba.com also rewards customers with an extra bonus for each of their orders. Customers receive 2% of the value of the purchase in Thank You points. Whenever customers reach 1,000 Thank You points, they can convert them into $10 Voice Credit that they can use to call Cuba for free. The standard rate to call Cuba with HablaCuba.com is 69.9¢/min.
Thank You points can also be gained by referring the service to a friend: if a customer sends his referral code to a friend and his friend opens an account and places an order, the customer will receive 500 points.
About HablaCuba.com
HablaCuba.com is an interactive website designed by KeepCalling, a global telecommunications company registered in 2002 in USA. Presently, KeepCalling provides its services to hundreds of thousands of consumers and businesses, with a focus on customer satisfaction. KeepCalling was listed by Inc 5000 as one of the fastest growing companies in the USA for 5 consecutive years.