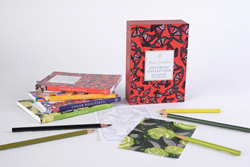 Vera Bradley's distinctive patterns naturally lend themselves to coloring books. Their simple beauty just inspires you to get creative with gorgeous color!
East Petersburg, Pennsylvania (PRWEB) October 20, 2016
Women who love the beautiful colors and playful patterns of Vera Bradley handbags will soon have a new way to enjoy their favorite designs. Adult coloring books featuring Vera Bradley's iconic style will be available for the first time this holiday shopping season, produced under a new licensing agreement with Fox Chapel Publishing.
New Vera Bradley coloring books and gift sets will be available on a limited basis for holiday 2016 at Vera Bradley and Michaels stores, with a full rollout coming nationwide in Spring 2017. Select Hallmark Gold Crown stores will also have the Vera Bradley coloring products.
"Coloring book consumers are seeking quality, and Vera Bradley's exciting lifestyle brand will strongly influence their buying decisions," noted Ray Wolf, Sales Director at Fox Chapel Publishing. "And we know that Vera Bradley's target demographic closely matches the typical female coloring book consumer."
"We are so excited for the release of the new Vera Bradley coloring book series, and know our customers will be excited as well," said Idalia Farrajota, Michaels Senior Vice President of Merchandising and Trend. "With the continued growth in the adult coloring book category, it is clear consumers are looking for ways to express themselves while relaxing and unplugging from technology."
Six coloring books will be released in the first stage of the new agreement. The Vera Bradley Coloring Collection will offer four coloring books in an attractive boxed set. Printed on heavy cardstock with satin ribbon bookmarks and foil-embellished covers, each book in the collection costs $10.00 and provides 20 coloring cards that detach easily to share with friends.
In addition to the boxed set, two full-size adult coloring books will also enable consumers to bring authentic Vera Bradley designs to life. Focused on floral and paisley patterns, these titles are priced at $15.00 each and include full-color instruction in coloring techniques, innovative craft ideas, selected color swatches, and detachable ready-to-color gift tags.
"Vera Bradley's distinctive patterns naturally lend themselves to coloring books," according to Kati Erney, Editor at craft magazine DO magazine. "Their simple beauty just inspires you to get creative with gorgeous color," said Erney.
"We're combining the most beloved pattern designer with our innovative approach to coloring books," commented Peg Couch, Editorial Director at Fox Chapel Publishing. "The result is going to be something totally inspiring and creative that both Vera Bradley and coloring fans alike will love," added Couch.
For more information about the new coloring books, visit verabradley.com and foxchapelpublishing.com.
ABOUT VERA BRADLEY, INC.
Vera Bradley is a leading designer of women's handbags, luggage and travel items, fashion and home accessories and unique gifts. Founded in 1982 by friends Barbara Bradley Baekgaard and Patricia R. Miller, the brand's innovative designs, iconic patterns and brilliant colors continue to inspire and connect women unlike any other brand in the global marketplace. The Company's commitment to bringing more beauty into women's lives includes its dedication to breast cancer research through the Vera Bradley Foundation for Breast Cancer. For more information about Vera Bradley (Nasdaq:VRA), visit verabradley.com.
ABOUT FOX CHAPEL PUBLISHING
Fox Chapel Publishing inspires and informs readers who enjoy a wide variety of hobbies, crafts, and lifestyle interests. The company specializes in illustrated nonfiction with a focus on artisan and high-quality craft books. Fox Chapel has approximately 25% market share in adult coloring books, with more than 125 active titles. Fox Chapel publishes more than 1,200 book titles and three quarterly magazines, including DO Magazine, the #1 coloring magazine in its class. The publisher's imprints include Design Originals, IMM Lifestyle Books, and Creative Homeowner. For more information please visit foxchapelpublishing.com.