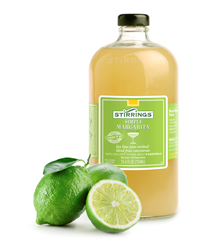 Mansfield, MA (PRWEB) October 18, 2016
Stirrings, the maker of super-premium cocktail mixers is looking for spectacular bloggers, not professional bartenders to compete in their First Annual "Stir It Up Holiday Blogger Mixology Challenge." The challenge date has been set, the bottles will be popping and shakers will be shaking and the stakes will be high to see who becomes the first winner of their First Annual Stirrings "Stir It Up Holiday Blogger Mixology Challenge." Stirrings "Stir It Up Holiday Blogger Mixology Challenge" will be open to the first 100 qualified bloggers to create an original cocktail recipe using a Stirrings Cocktail Mixer or Rimmer Cocktail Garnish.
Stirrings is looking for inspirational ideas to create "Simply Better Cocktails" that occurs when creativity is fused with unexpected flavors and ingredients that are chilled or poured over ice and then shared with friends.
Take the challenge and share your creativity using Stirrings Cocktail Mixers and Rimmer Cocktail Garnishes where there are (almost) no rules, only originality and the pursuit of great taste!
Qualified bloggers will compete to win one of three prizes. The top entry will be awarded $1,000.00; second place $500.00; and third place $250.00 and of course, bragging rights to friends and family.
All qualified participants will receive their choice of two (2) Stirrings Cocktail Mixers or Rimmer Cocktail Garnishes from a provided list to be used in creating their cocktail recipe.
Entrants will be required to submit a link to their recipe (from their blog) with an accompanying photo of their finished cocktail creation and post their cocktail recipe along with a photo of their cocktail (and the Stirrings product (s) used to create it) on their blog, Facebook, Twitter and Instagram pages, as applicable. To take the challenge, participants can submit an entry form and request a complimentary Stirrings Cocktail Mixer or Rimmer Cocktail Garnish at http://www.stirrings.com starting on October 15, 2016.
Stirrings will be seeking cocktail recipes that taste great, are original and inventive. Contest recipes will be judged on their taste, visual appeal and creativity.
To qualify for the Stirrings Stir It Up Holiday Blogger Mixology Challenge you must be:

Must be 21 years old or older at time of entry
Must be a legal U.S. resident
Alaska Hawaii and where prohibited
Beverage or food blog must be updated frequently (at least once per week) and has been in existence for at least 6 months (at least since April 1, 2016)
RECIPE MUST BE ORIGINAL
Entrants cannot be professional bartenders
NO PURCHASE NECESSARY
No alcohol purchase required. Must be qualified blogger to enter. Entry forms must be received by the earlier of Sponsor's receipt of (100) qualified entry forms OR December 15, 2016 at 11:59:59 p.m. ET. Entry (cocktail recipe) must be received by January 15, 2017 at 11:59:59 p.m. ET. Subject to officials rules at http://www.stirrings.com.
Stirrings offers a complete line of cocktail mixers and Rimmer Cocktail Garnishes that are convenient and versatile and makes the art of bartending very easy and simple to do. The cocktail mixer line consists of 10 flavors that include Apple Martini, Blood Orange, Bloody Mary, Cosmopolitan, Lemon Drop, Margarita, Mojito, Peach Bellini, Pomegranate and Watermelon. Rimmer Cocktail Granishes include Bloody Mary, Cosmopolitan, Lemon Drop, Margarita and Pomegranate.
About Stirrings
Established in Nantucket, MA in 1997, Stirrings is an innovative cocktail company redefining the way people enjoy cocktails. Believing that better ingredients are the only way to achieve a better tasting cocktail, Stirrings uses the finest real juice, cane sugar and no preservatives to create a diverse collection of super-premium Cocktail Mixers, Rimmer Cocktail Garnishes and Classic Bar Ingredients. For more information about Stirrings products email us at sales@stirrings.com.