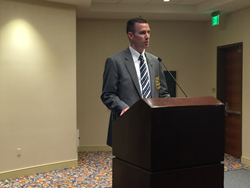 You are making a difference in the lives of these kids. And you are absolutely making a difference in the narrative of policing in this country.
San Diego, California (PRWEB) October 17, 2016
The Arlington, Texas, Police Department and The Man's Shop, a men's clothing store in the city, were honored by the International Association of Chiefs of Police (IACP) on Oct. 16 for a program that focuses on "introducing young males to trust-building and lessons in communication, responsibility and citizenship."
The IACP selected the two groups to receive its Michael Shanahan Award for Excellence in Public/Private Cooperation, which is sponsored by the Security Industry Association (SIA). The award was presented at a reception during the IACP Annual Conference in San Diego.
The program, which is part of the 2-year-old Mentoring Arlington Youth initiative, partners the participants, who are generally from lower-income homes with no father present, with police officer mentors. In addition, it provides each youth with a dress shirt and tie, as well as guidance on how to dress, how to present oneself—both in-person and online—how to manage a budget and other life skills.
The program has improved participants' attitudes toward police, reduced recidivism rates and enhanced academic performance.
After accepting the award, Arlington Police Chief Will Johnson lauded the work of his officers.
"You are the best in policing," Johnson said. "You are making a difference in the lives of these kids. And you are absolutely making a difference in the narrative of policing in this country."
Previously, The Man's Shop owner Wally Hardin explained the value of the program.
"It's important to show our boys what success looks like, not just tell them," Hardin said. "Kids need to know they have options in life beyond what they are currently surrounded by."
SIA CEO Don Erickson congratulated the recipients on the positive impact they are making.
"Arlington police and The Man's Shop are not only making their community safer, they are changing the lives of young men," Erickson said. "SIA is proud to partner with the IACP to honor such deserving organizations."
About the Security Industry Association
The Security Industry Association (SIA) (http://www.securityindustry.org) is the leading trade association for global security solution providers, with nearly 700 innovative member companies representing thousands of security leaders and experts who shape the future of the security industry. SIA protects and advances its members' interests by advocating pro-industry policies and legislation at the federal and state levels; creating open industry standards that enable integration; advancing industry professionalism through education and training; opening global market opportunities; and collaboration with other like-minded organizations. As a proud sponsor of ISC Events expos and conferences, and owner of the Securing New Ground® conference, SIA ensures its members have access to top-level buyers and influencers, as well as unparalleled learning and network opportunities.