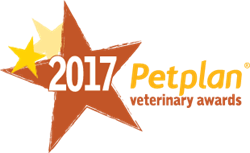 Newtown Square, PA (PRWEB) October 17, 2016
What makes a pet health provider paws down awesome? Petplan pet insurance is sniffing out the answer!
Entries poured in from clients, colleagues and pet parents throughout North America — all barking the praises of exceptional veterinary individuals and teams. Judges reviewed a record 6,145 nominations for the 2017 Awards to pick the final pack, who will attend the annual Veterinary Awards dinner at the Four Seasons Resort Orlando in February as honored guests of Petplan.
This year's finalists include a second-generation vet, whose father was a small animal veterinarian in Larchmont, NY; a practice manager whose adoption of a homeless puppy inspired him to create a fund for providing treatment to animals in need; and a practice that works closely with a wild bird center, a wildlife center and a turtle hospital, among others.
"Veterinary Awards season is our favorite time of year, and we're delighted to see so much enthusiasm for honoring the people who keep pets healthy," says Natasha Ashton, co-founder and co-CEO of Petplan pet insurance. "Our finalists not only meet the high bar set by past winners, but they continue to elevate and inspire the entire profession with their compassion and dedication."
Petplan's 2017 Veterinary Award finalists are:
Practice of the Year
Marathon Veterinary Hospital – Marathon, FL
Veterinary Specialty & Emergency Center – Levittown, PA
Western Carolina Regional Animal Hospital & Veterinary Emergency Hospital – Flat Rock, NC
Veterinarian of the Year
Dr. Sandy Block, DVM, Bollinger Canyon Animal Hospital – San Ramon, CA
Dr. Hilary Wheeler, CVA, The Whole Pet Vet Hospital – Los Gatos, CA
Dr. Steve Winokur, DVM, CVA, Pharr Road Animal Hospital – Atlanta, GA
Veterinary Technician of the Year
Ramona Crane, LVT, CVT, APEX-College of Vet Tech – Colorado Springs, CO
Purvi Patel, RVT, Laurelwood Veterinary Hospital – Waterloo, ON
Kimberly Ramirez, RVT, The Sams Clinic Veterinary Specialists – Mill Valley, CA
Practice Manager of the Year
Kristi Kruger, San Tan Animal Hospital Animal – Queen Creek, AZ
Bonita Masters, RVT, Paradise Animal Hospital and Wellness Centre – Paradise, NL
Andy Pertuset, CVPM, Western Carolina Regional Animal Hospital & Veterinary Emergency Hospital – Flat Rock, NC
Receptionist of the Year
Danielle Lawrence, Alicia Pet Care Center – Mission Viejo, CA
Jennifer Thompson, Best Friends Animal Hospital & Pet Resort – Swansea, IL
Amie Zimmerman, Deer Grove Veterinary Clinic – Cottage Grove, WI
Pet Parent of the Year – 2017 Winner!
Melody Fox, Cause4Paws Pet Food Bank – Phoenix, AZ
"The Petplan Veterinary Awards is one of the best nights in the veterinary profession," says Dr. Andy Roark, veterinarian, media personality and emcee of this year's event. "To see our industry come together to cheer one another and inspire each other makes the heartbreak and sacrifice it often takes to practice veterinary medicine feel all the more worth it. And of course, anytime you get hundreds of animal lovers together for a party — especially when it's hosted by Petplan — you know you're in for a good time."
For more info about the 2017 Veterinary Awards, point your paws to http://www.gopetplan.com/vet-awards/veterinary-awards-dinner.
###
ABOUT PETPLAN'S VETERINARY AWARDS
Now in its sixth year, the Petplan Veterinary Awards honor the important work of North America's veterinary professionals who go above and beyond, providing pets with exceptional care and clients with exceptional customer service. Petplan is proud to carry on the tradition of rewarding excellence in veterinary medicine fostered by our sister company, Petplan UK, whose own Vet Awards are Britain's pre-eminent industry celebration. For more information about Petplan's Veterinary Awards, please visit http://www.gopetplan.com/vetawards.
ABOUT PETPLAN
Petplan has built the industry's leading pet insurance for pet parents who demand a higher pedigree of care for their best friends. We've leveraged 40 years of global experience to create completely customizable coverage pet parents can feel confident in, and world-class claims service that's second to none—24 hours a day, every day.
Petplan's innovative approach to pet insurance has been recognized by Forbes, Financial Times, Bloomberg, Inc. magazine, Smart CEO, the Communicator Awards, Ernst & Young and many others.
Petplan policies are underwritten in the U.S. by XL Specialty Insurance Company and in Canada, by XL Specialty Insurance Company-Canadian Branch. The company is rated A+ by S&P. Coverage may not be available in all jurisdictions. For more information about Petplan pet insurance, visit http://www.petplan.com or call 1-866-467-3875.