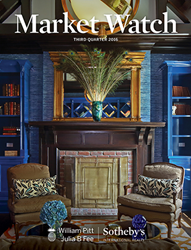 Fairfield and Litchfield Counties, Conn., Westchester County, N.Y., and Berkshires, Mass. (PRWEB) October 17, 2016
A report detailing third quarter market results for 2016 in Fairfield and Litchfield Counties and the Shoreline in Connecticut, the Berkshires in Massachusetts, and Westchester County, New York, has just been released by William Pitt and Julia B. Fee Sotheby's International Realty, the company announced today.
In comparing the first three quarters of 2016 with those of 2015, the report found that unit sales and dollar volume have begun to level off after the significant gains achieved during the first six months of the year. The third quarter of 2016 on its own tended to see fewer gains or lower volume and unit sales versus the same period last year.
In Westchester County overall, dollar volume year over year is 6% higher and unit sales are about 10% higher, with more of this growth attributable to a strong performance in the northern county. There, sales volume is 11% higher year over year and units 15% higher, compared to dollar volume being 4% and units 8% higher in the lower county. Fairfield County, taken as a whole, is down 5% in dollar volume with unit sales up 3% year over year, yet was highly variable in different regions. More softness occurred in the higher end communities of the lower county including New Canaan, Darien and Westport, with Greenwich proving an exception. In Northern Fairfield County, the market is actually up 18.4% in volume and 20.8% in units year to date versus 2015. The Connecticut Shoreline is just ahead of last year, with volume and unit sales increasing 3% and 10%, respectively, and in Southern Berkshire County, year-to-date volume is 11% higher and units 5% higher than 2015. Litchfield County also saw growth this quarter, with the region now 8% higher in volume and 10% higher in units than this time last year, and property sales over $1 million experiencing a strong uptick.
The Market Watch pointed out that in most areas, the entry level price points are usually driving the market. With major price adjustments spurring sales in some cases, higher end properties on the other hand are seeing longer days on market, have a smaller pool of potential buyers and are competing for attention against a surplus of luxury properties. A different trend has occurred in both Litchfield County and Northern Fairfield County, where certain higher price categories are performing very well, and Northern Westchester County continues to see improvement as well.
"After a very robust first six months, with unit sales and dollar volume higher in the majority of the markets we serve, the third quarter saw our markets realigning more closely with how they performed last year," said Paul Breunich, President and Chief Executive Officer of William Pitt and Julia B. Fee Sotheby's International Realty. "While we may experience fluctuations in the market, there are plenty of healthy economic indicators from high consumer confidence to ongoing low mortgage rates, suggesting that the market should remain an active place for some time to come."
The 2016 Third Quarter Market Watch is available for download on the firm's website, williampitt.com.
###
About William Pitt and Julia B. Fee Sotheby's International Realty
Founded in 1949, William Pitt and Julia B. Fee Sotheby's International Realty manages a $3.9-billion portfolio with more than 1,000 sales associates in 24 brokerages spanning Connecticut, Massachusetts, and Westchester County, New York. William Pitt and Julia B. Fee Sotheby's International Realty is the largest Sotheby's International Realty(R) affiliate globally and the 28th-largest real estate company by sales volume in the United States. A full-service real estate firm headquartered in Stamford, Connecticut, William Pitt and Julia B. Fee Sotheby's International Realty provides ancillary services including commercial services through its affiliation with Building and Land Technology, a second-generation development company based in Stamford, Connecticut; William Pitt Insurance Services; and an award-winning global relocation division. For more information, visit the website at williampitt.com.
Sotheby's International Realty's worldwide network includes approximately 19,000 sales associates located in approximately 850 offices throughout 65 countries and territories.