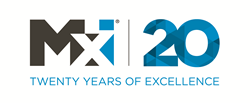 Ottawa, Canada (PRWEB) October 18, 2016
Mxi® Technologies, the leader in aviation maintenance management software, is pleased to announce the Company is celebrating its 20th anniversary.
Established in October 1996, Mxi Technologies was founded by a small group of young entrepreneurs willing to take a risk to fulfill a vision of building a new off-the-shelf aviation maintenance management solution from the ground up. Since then, the Company has evolved into one of the largest and most successful software providers dedicated exclusively to the aviation Maintenance, Repair and Overhaul (MRO) market. Learn more about Mxi's history.
"For too long, the MRO market was underserved by offerings that were limited in scope at best. From the very beginning, we took great pride in building a brand that our customers have come to equate with proven software, backed by a demonstrated approach to enabling profitable and sustainable aviation maintenance businesses," said Jeff Cass, Mxi Technologies Chief Innovation Officer and one of its original founders.
Over the next two decades, Mxi's flagship product, Maintenix®, expanded into a suite of solutions that is currently used by some of the biggest names in commercial aviation, defense, OEM and third-party MRO service. Today, Maintenix supports over 11,000 aviation assets, representing more than 20 percent of the world's active commercial and military fleets.
According to Cass, this success stems from Mxi's commitment to delivering innovative products that stay one step ahead of the market. Over the years, Maintenix has pioneered many industry "firsts", including:

First to be certified for paperless use in line maintenance (2002)
First thin-client, Web-architected solution (2004)
First to build a mobile handheld disconnected maintenance execution application (2004)
First to support configuration management of complex aircraft field loadable software (2006)
One of the first to tap into latest Cloud-based technologies (2011)
One of the first to support maintenance of Unmanned Aerial Vehicles (2011)
"Mxi has produced software that not only meets the strong compliance outcomes demanded by the industry, but also provides the ability to move further into the electronic age. Maintenix has enabled our organization to take the bold leap into the age of electronic records and electronic certification; features which have yet to be adopted by the vast majority of airline operators around the world," said Chris Nassenstein, Executive Manager, Engineering at Qantas, a Maintenix customer since 2008. "We congratulate Mxi on its pioneering work over the last 20 years and look forward to continuing to work innovatively with them to provide solutions that enable us to be the best we can be."
See what other customers have said over the years about Mxi Technologies and the Maintenix suite.
Today, Mxi Technologies continues to experience significant growth, fueled by increasing demands for Maintenix software and services around the world. To accommodate growing staff and operations, the Company recently moved into its new 45,000+ square foot corporate headquarters in Ottawa, and opened regional offices in Dallas, TX and Kuala Lumpur.
"Looking back, we are especially proud of how strong and vibrant the Maintenix community has become over the course of our history. Without the significant contributions of our global customers and partners, Mxi Technologies wouldn't be where it is today," said Jon Slangerup, Mxi Technologies Chairman and CEO. "Supported by an Mxi team that is second to none in the industry, we are confident that the success of the past two decades will continue for many years to come, with Mxi playing a leading role in building the future of aviation maintenance management."
About Mxi Technologies:
Headquartered in Ottawa, Canada with U.S. headquarters in Dallas, TX, Mxi Technologies is a leading provider of integrated and intelligent maintenance management software, support and services catering specifically to the global aviation industry, including commercial and defense operators, third-party MROs, and OEM aftermarket service providers. Mxi Technologies' suite of Maintenix software is uniquely designed to help aviation organizations maximize the revenue potential of their aviation assets through standard, lean, and predictable maintenance. Mxi's global footprint of customers range from emerging, small to midsized organizations to the largest global enterprises, with single to multi-site deployments that scale as high as 6,000 users in a single instance. For more information, visit us at mxi.com.