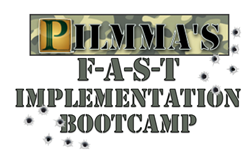 PILMMA prides itself on delivering more than just theory
Myrtle Beach, SC (PRWEB) October 19, 2016
PILMMA (Personal Injury Lawyers Marketing & Management Association), the nation's leading provider of marketing and management solutions for Personal Injury and Disability attorneys is hosting the F-A-S-T Implementation Bootcamp for Lawyers, November 11th-12th in Chicago, IL at the Holiday Inn & Suites Chicago O'Hare-Rosemont, 10233 West Higgins Road, Rosemont, IL 60018. Due to the intense, "hands-on" nature of this event where attendees will be creating "take-to-the-bank" materials for their businesses, seating is limited to only 55 attendees.
Attendees can expect to learn the critical skill of how to create their law firm's "Standout Proposition" so their firm is the clear choice for prospects and potential clients. During this hands-on event, attendees will receive templates to fill in to guide them through the process. Templates for headlines, advertisements and three proven referral systems, successfully used by Ken himself to build his 7-figure practice, will be provided to all in attendance. Those interested in growing their law practices should not miss this 2-day event. In just 48 hours, attendees will discover the most valuable money-making systems, tools and strategies that will not only transform their firms but their lives as well.
The two speakers headlining this event are Ken Hardison and Frankie Fihn. Ken, President and Founder of PILMMA, practiced Injury and Disability Law for over 32 years and built one of the largest Personal Injury Law Firms in the state of North Carolina. Go to http://www.LawyerNC.com to learn more about the law firm Ken helped build. Ken attributes his success to his persistence and willingness to try new things, primarily in marketing. He is also the author of "How to Effectively Market Your Personal Injury Law Practice in the 21st Century" and "Under Promise, Over Deliver" and other numerous articles on marketing and managing Injury and Disability practices. It has become Ken's mission to teach Personal Injury and Disability lawyers how to market, manage and grow their practices through their involvement with PILMMA.
Accompanying Ken on this mission to whip firms into shape at PILMMA's F-A-S-T Implementation Bootcamp, is Frankie Fihn, PILMMA's Marketing Director. Frankie is best known for helping his clients on Oprah, Dr. Phil, NBC News, ABC News, National Geographic and many others generate over $20,000,000 in client fees. He is also a featured author for Attorney at Law Magazine. He is passionate about helping lawyers overcome the various sticking points that prevent them from getting the clients, cases, and freedom they truly deserve.
Those who have attended past PILMMA events have given rave reviews of the priceless information they have taken away from the presenters. Based on the opinion of many satisfied attendees, a PILMMA event is an educational experience for all attorneys and their staff.
Seats for the show are available for only $997, which PILMMA is waiving for all PILMMA Members. With that said, early registration is recommended since those 55 spots will disappear quickly. Guests can attend for only $197 and PILMMA urges all those who attend to bring along at least one member of your firm to help with the creation of your plan of action as well as to assist in the implementation process upon your return.
To register for PILMMA's FAST Implementation Boot Camp, visit http://www.pilmmabootcamp.com/ or contact PILMMA's office at info(at)pilmma(dot)org.
About PILMMA
The Personal Injury Lawyers Marketing and Management Association (PILMMA) is the premiere organization dedicated to providing injury and disability lawyers with the information they need on how to better market, manage and grow their law firms. Each year PILMMA holds Marketing and Management events that bring together the best minds in the industry along with personal injury and disability lawyers from across the country to discuss the latest innovations and strategies in the world of legal marketing. To learn more about PILMMA, visit https://www.pilmma.org and http://www.trypilmma.com.