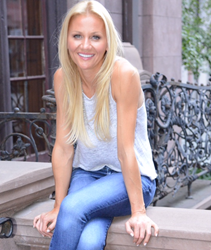 Tribeca, NY (PRWEB) October 19, 2016
Christina Kelly, has an extensive background in fashion. Working with top designers and brands, Kelly's styles have been featured in GQ, Elle, and other leading publications.
Halloween is coming, and it's time to dress up in scary outfits for parties and costume contests. However, to keep the frightening fashion to Halloween specific events, it's important to avoid some terrifying fashion no-nos when out and about. N.Y. Stylist and fashion consultant, Christina Kelly, discusses four scary fashion don'ts to avoid.
1. Ill-fitting clothing and undergarments It doesn't matter how trendy or gorgeous an article of clothing is if it doesn't fit properly. Two common pit-falls for ill-fitting clothing is the case of too small clothing, creating unflattering muffin tops, chest spill-over, and various bumps and creases in the outfit, and too big. Insecurity can lead to women buying clothing that is too big for them. Instead of masking problem areas, over-sized clothing creates a shapeless look, hanging off of the body and covering curves, making the wearer look larger instead of smaller. Try on clothing with a friend or with the help of a sales associate to get feed-back on the fit. Ensure that you are wearing undergarments that fit properly as well. It's a good idea to get a professional bra fitting, to avoid bumps that will show through the clothing.
2. Toes that extend over the front lip of open-toed heels When the only shoe size available in that hot pair of heels that you just must have, is a little too big or too small, take a pass. With shoes that are a size too big, the foot can easily slip forward while walking, creating toe over-hang. The same can happen when shoes are too small, not quite fitting the toes in where they should be. Not only will properly fitted shoes eliminate the pain of wearing ill-fitting foot-wear, but it will prevent toe over-hang in open toed heels.
3. Crocs as street-wear Crocs are great at the beach or when working a shift at the hospital, but they are not exactly fashionable street-wear. For comfy street-wear, opt for ballet flats, casual boots or sneakers, and leave the crocs to medical professionals and water-fun.
4. Head to toe matchy-matchy It's great to coordinate tops, bottoms, and accessories, but there's a vast difference between outfitting, and creating a head to toe matchy-matchy look. Break up a monochromatic look with complimentary accessories or by adding a coordinating pattern or hue in with the outfit. Always tie items in with a like-color or feature, but keep some pop of visual contrast to highlight the outfit rather than drown in it.
Christina Kelly often gives her insights and thoughts regarding the fashion industry. She is currently a fashion and style consultant, working with a wide variety of high-end clients. Combining an innate business sense with fashion and style helps make Christina Kelly a true asset to her clients.