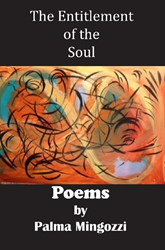 Palma Mingozzi wins Best Poetry Contest
Staten Island, New York (PRWEB) October 18, 2016
Celebrated poet and humanitarian Palma Mingozzi, author of The Entitlement of the Soul recently won the prestigious NY Literary AWAKE Magazine Best Poetry contest. Palma Mingozzi is a self-taught artist and writer from Staten Island, New York, USA. Her interests are in the abstract and include a variety of subjects,infused with realistic themes, including the emotional humane and spiritual. These include beauty, upliftment, awareness, human spirit, wholeness, completion, mystery, fantasy and nature. She is inspired by the beauty of nature people and her environment. She is rooted in the influence of nature, colors, shape and form, and by the artists that she so admires including Michelangelo, Botticelli, Kandinsky and Jackson Pollock.
She has participated in more than 10 exhibits over the period of five years on Staten Island, and her solo debut exhibit was at the GlobalArtGallery in Italy in 2012. She has written several poetry books both in English, The Entitlement of the soul and Emotional upheaval, and in Italian, Brucio Di te, Trofeo, Un'altro Oceano, Erasmo Serretti, Studi in Chromoterapia. She has been included in Italian anthologies, Il Sentiero delle Muse, Librando L'anima, Goccia a Goccia in honor of Alda Merini, Ciò Che Caino non Sà. She translated both Io l'ho incontrato così by Daniela Straccamore and Erasmo Serretti's book into English. She has been included in one Indian anthology, dimorianreview.com, and has participated internationally in many groups lending her poetry out in places such as Africa, India Canada, Ireland,Pakistan, Spain and Italy.
2015 has brought her to several stages where she recited many poems on stage and introduced international performing artist Rosa Didonna, Bari Italy, in two exhibits, Vertigo Gallery, Times Square and SIABC Gallery, Staten Island, NY. She held an important exhibit called Essence dedicated to Julia Gardiner Tyler, the president's wife and the Rose of Long Island at the Babylon town hall in Long Island with the collaboration of Russian ballet dancers and Maestra Adriana Sala-Mascari. Julia was the first to change communication styles in the White House and later sympathized with the Confederates and moved to Staten Island.
Palma has given a presentation on Italian American immigration alongside Steven Weiss's exhibit featuring his Milano Collection at the Garibaldi Meucci Museum. The presentation included 10 poets both local and international and featuring spoken word made to song by June Palo. Many of her poems can be found in readings on Sound Cloud as she has participated in poetry groups that have included her poems as part of their program on the radio. Radio Lucrias, La Voce dei Poeti, Poetry Ireland and Parola Mia Programma Radiofonico Web. Un'altro Oceano won fourth place out of more than 150 poets in the Leandro Polverini Competition for the city of Anzio, Italy.
In 2016, she has become the newly elected president of the South Shore Artist Group and has interviewed with Al Lambert, channel 34.
Boulevard Books is an educational publishing company for the 21st century. Founded in 2010 by Avi Gvili, it aims to bring the best writers across the globe to a greater audience