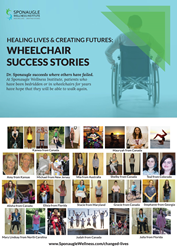 Dr. Sponaugle has now enabled 27 Lyme disease patients to escape the confines of their wheelchairs.
Tampa, FL (PRWEB) October 17, 2016
Sponaugle Wellness Institute is pleased to announce that Dr. Rick Sponaugle has successfully enabled three patients to walk again after being confined to their wheelchairs for years. All three patients suffered from neurological Lyme disease and severe mold toxicity; Prior to receiving treatment at Sponaugle Wellness Institute, the resulting neurotoxicity inhibited their ability to walk, or even stand.
From the moment they arrived at Sponaugle Wellness Institute, these patients finally had a semblance of hope. The staff at Sponaugle Wellness were able to document the journeys of all three women through video footage, allowing behind-the-scenes access to the treatment experience for patients suffering from Lyme Disease and Mold Toxicity. These videos also give people insight into how quickly Dr. Sponaugle's intravenous neurological protocols can impact the lives of Lyme disease patients.

Julia (age 46 - from Miami, Florida) had suffered for 15 years with multiple symptoms of Lyme disease and mold toxicity. Although she received treatment from over 20 doctors, both traditional and naturopathic, Julia's symptoms continued to worsen until she eventually became bedridden. As seen in her video below, Julia came out of her wheelchair after just four weeks of Dr. Sponaugle's revolutionary treatment. She was not only able to walk, but also was physically able to jog with Jamie, a Sponaugle Wellness employee.
Mary Lindsey (age 18 - from North Carolina) was a healthy and extremely active teenager who danced 20 hours a week before she succumbed to a combination of neurological Lyme disease, Bartonella infection, and mold toxicity. As these infections progressed, she became wheelchair bound and developed severe neurological symptoms, including seizures, slurred speech, and total body pain.
Prior to finding Dr. Sponaugle, Mary Lindsey sought treatment with 30 doctors including neurologists at two major universities, who told her that her symptoms were solely psychological. Despite their misdiagnosis, Mary Lindsey pursued treatment from several renown Lyme specialists, yet she experienced an exacerbation of her symptoms. Ultimately, treatment at Sponaugle Wellness Institute has allowed Mary Lindsey to forego her wheelchair and regain her health.
Samantha (age 22 - from Walsall, West Midland, UK) had been suffering with Lyme disease and mold toxicity for six years. Before seeking treatment with Dr. Sponaugle, she had undergone failed Lyme treatment in both her home country of England and at a California wellness center. During this time, Samantha lost her ability to walk and became confined to a wheelchair. After undergoing integrative Lyme disease treatment at Sponaugle Wellness Institute, Samantha is now able to walk with the aid of her walker and is on the road to recovery.
Prior to their treatment with Dr. Sponaugle, these patients were treated by physicians at leading medical institutions from all over the world. Unfortunately, these physicians were unable to properly diagnose their unique conditions or provide any form of successful treatment.
Dr. Sponaugle's comprehensive protocols have helped 27 chronic Lyme disease patients come out of their wheelchairs, a feat unparalleled by most Lyme disease specialists worldwide. His ability to successfully treat this unique subset of chronic Lyme patients is derived from 20 years' of experience working in critical care medicine, and the brain expertise Dr. Sponaugle acquired through treating 9,000 patients with brain and neurological disorders.
His clinical research includes a brain imaging database of 600 PET and SPECT scans in neurological Lyme disease patients. Dr. Sponaugle has correlated underactive brain regions on PET brain imaging as causation of his patients' neurological symptoms. In addition, he has performed analysis of 9,000 neurotransmitter patterns and 6000 mold mycotoxin levels in neurotoxic patients.
This Thursday, October 20th at 7:00 PM EST, Dr. Rick Sponaugle will be hosting a live webinar: How Lyme Disease and Neurotoxicity Cause Depression and Anxiety. Register early because seating will be limited.
Dr. Sponaugle has written chapters on neurotoxicity for Suzanne Summers, as well as chapters on the gut-brain connection for gut expert Brenda Watson. He has been featured on the Dr. Phil show, Suzanne Somers show, CNN, FOX News, ABC News, CBS News, NBC News, and PBS.
Watch Lyme Disease & Mold Toxicity Patient Testimonials > Wheelchair Success Stories and Video Testimonials: https://www.youtube.com/playlist?list=PLyH6zs4wiBMMys1Ke3HfcoXOgNJwfHvIA
About Sponaugle Wellness Institute:
Sponaugle Wellness Institute, located in Tampa Bay, Florida, is led by Medical Director, Rick Sponaugle, MD. Dr. Sponaugle is an integrative physician who practices functional medicine. He approaches healing on an intracellular level using Biochemistry, Phospholipid therapy, and detoxification protocols to optimize mitochondrial function, to treat patients suffering from neurotoxicity as a result of Lyme disease and mold toxicity. Sponaugle Wellness combines the best of western medicine and natural medicine to assist the healing of patients suffering from chronic illness.