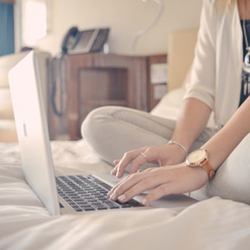 Ad Prospector helps keep our customers' brands top-of-mind as consumers make their online search journeys.
Norfolk, Virginia (PRWEB) October 17, 2016
ForRent.com®, a leading multifamily marketing resource helping customers to drive leads, build brands and retain residents for more than three decades, is rolling out yet another effective and relevant product. Constantly searching for ways to keep customers ahead of their competition and on current trends, ForRent.com is excited to announce the launch of Ad Prospector.
Ad Prospector brings online retargeting ads to ForRent.com customers. These ads track prospective renters from the ForRent.com website to other sites, displaying relevant and highly targeted banner ads for ForRent.com clients. Retargeting ads will appear on major online publications and news sites such as Forbes, The Washington Post, ABC, Yelp, etc.
"ForRent.com is dedicated to giving customers the most innovative tools on the market," said Terry Slattery, president of ForRent.com. "We are constantly looking for new ways to help our customers succeed. With Ad Prospector, we are staying true to one of our core values - and that's brand building for our customers. Ad Prospector helps keep our customers' brands top-of-mind as consumers make their online search journeys."
The main job of Ad Prospector is to keep the customer's brand in front of an audience of rent-ready consumers. Even after a rent-ready consumer leaves ForRent.com, the property's ad will be a consistent reminder for them to find their next home - at the community of the advertiser.
About ForRent.com®
As one of the nation's leading online home search destinations, ForRent.com® inspires renters to discover their next apartment, loft, townhouse, or condo. ForRent.com features rental listings in a user-friendly format, making finding your next home an easy exploration. Visitors to the ForRent.com blog will discover relevant information and can join the conversation surrounding home decorating style, apartment hunting tips and more. ForRent.com serves as the complete resource for renters in every part of their living experience.
Begin your apartment search today with ForRent.com, one of ForRent.com's mobile apps, ForRent.com Magazine or search ForRent.com on YouTube. For decor tips and more, visit the Apartment Living Blog and don't forget to check us out on Facebook, Twitter, Instagram, Google+ and Pinterest!