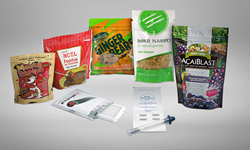 Moonachie, NJ (PRWEB) October 19, 2016
'What kind of military experience do you have?' is not the typical question that a consumer brand manager might ask one of its supply chain packaging partners. However, it is a powerful point of difference that LPS Industries, a leading flexible packaging manufacturer, credits to its ability to help today's brands most effectively utilize flexible packaging. The expertise gained and technical advancements achieved over five decades in serving the tactical needs of the military has resulted in highly innovative and in some cases, pioneering flexible packaging solutions.
According to CEO Madeleine Robinson, "LPS Industries has been a proud supplier to the military for more than 50 years through two generations of leadership. Meeting exacting quality measures, adapting technologies to fit unique specifications and custom producing materials that perform at the highest quality standards under the most extreme conditions has been business-as-usual since my father started this company in 1959."
As flexible packaging demands for consumer brands advances, LPS Industries has, and continues to adapt its "tactical to practical" mindset to an ever-expanding range of consumer product applications. "Virtually all of our high barrier flexible packaging for consumer products has its origins in some form of military application." Robinson explains. LPS Industries will be highlighting this "tactical to practical" evolution at Pack Expo 2016, as it meets with current and emerging brand owners and showcases its extensive line of flexible packing solutions.
A Longtime Ally in Supporting the Military's Flexible Packaging Needs
LPS Industries enjoys a long, rich history of serving the military since 1959. The company began as a material supplier and their initial entry into manufacturing was adding equipment to convert military high barrier flexible materials into bags. One of the company's first contracts with the military after adding converting capabilities involved the production of bags that could be hermetically sealed, which made them ideal for protecting metal components in a moisture-free environment.
Components that need to be packaged and stored under specific atmospheric conditions demand precise performance characteristics. This is achieved by the use of specialized combinations of substrates that preserve the exact environmental conditions required. "Our work with the military and the associated R&D we perform to meet their needs affords us a wealth of hands-on experience, and knowledge of a broad variety of material configurations. This translates to knowing how to precisely construct high barrier flexible material that achieves optimum performance, regardless of the performance characteristics," states Robinson.
Today, the company routinely transfers this expertise to a multitude of CPG segments, including medical, prepared and frozen foods, snacks, spices, seasonings, grains, personal care and pet products, just to name a few. Whether the assignment is to develop stronger, lighter packaging, better barrier properties, features that improve security, add convenience or enhance the overall consumer experience, LPS Industries has the expertise, capabilities and, as a vertically integrated manufacturer, the overall quality control systems in place through their ISO certified manufacturing process to 'accomplish the mission'.
Drawing on Military Experience to Deliver a Smart Solution in Healthcare
When a medical test manufacturer needed packaging for an at-home test that patients would mail back to the lab, LPS Industries was on the short list of potential manufacturers. While protection and containment were primary goals, other features were also required, including puncture- and tamper-resistance and a tamper evident design. Leveraging its military background in projects having similar requirements, LPS Industries was chosen to develop a foil lined medical mailer to contain, protect and secure the patient samples during transit throughout the postal system. For a very long time, it was the only mailer of its type that was approved for use by the USPS, although others tried to duplicate it soon after its release.
A High Barrier Foil Packaging Solution for a Growing Health and Beauty Brand
While it's expected that the highest levels of protection are found in military and medical applications, quite often health and beauty products need some "TLC" as well. LPS Industries recently developed a stand up pouch (SUP) for a leading European health and beauty brand for the introduction of their flagship product in the United States. In conjunction with the opening its first U.S. manufacturing location, the company looked to partner with a U.S.-based packaging manufacturer with the expertise to create an attractive, foil-based SUP that would protect their highly sensitive product. LPS Industries' experience with high barrier foil packaging for the military was a decisive factor in supplier selection. A winning combination of materials knowledge, manufacturing quality, print quality, value and timeliness of delivery contributed to what continues to be a highly successful partnership.
LPS Industries - A Powerful Packaging Partner for brands
As a vertically integrated manufacturer, LPS Industries is able to deliver the requisite combination of creative, technical and manufacturing resources to support each customer's specific needs, from start-ups to multinational companies. The LPS Industries "total solution under one roof", customer-centric approach and its extensive consumer and military experience combine to build and maintain powerful packaging partnerships. Through the years, there have been numerous instances where LPS Industries pioneered a solution that has had great impact on an industry and created success stories for its clients. Brand owners across the product spectrum can depend on LPS Industries for a multitude of flexible packaging options and solutions that will protect and enhance their products.
LPS Industries Welcomes Members of the Packaging Media
LPS Industries cordially welcomes writers, editors and publishers of the international packaging media at Pack Expo 2016, and is scheduling press appointments at this time. To schedule a meeting or interview, please call Ed Delia at 908-534-9044, or email edelia(at)delianet(dot)com.
LPS Industries Specialists Scheduled to be on Hand at Pack Expo 2016
Visitors will have the opportunity to speak directly with LPS Industries experts and tap into their experience and knowledge of packaging solutions at Booth N-5275. They will be available to offer guidance on navigating the maze of packaging choices and options that customers face when trying to identifying the best solution to protect and promote their products. The LPS Industries team thrives on these challenges and has a long list of success stories in developing timely, cost-effective, customized solutions.