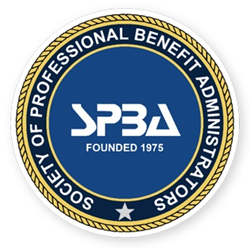 The way panels and workshops are structured really encourages TPA members to share ideas and learn from each other's experiences.
Chevy Chase, MD (PRWEB) October 20, 2016
Hosting its Fall Meeting in Minneapolis this week, the Society of Professional Benefit Administrators (SPBA) conducted three days' worth of informational sessions and workshops. These focused on the operational side of running a third party administrator (TPA) firm, as well as information and solutions to help TPAs position themselves as leaders in new approaches to employee benefits.
The annual conference was held October 17-19 and brought TPA members together from across the United States to discuss some of the biggest topics they face in the self-funding industry.
After hearing opening remarks from David Rubenzahl, SPBA chairman of the board, members attended presentations on everything from specialty prescriptions and reference-based pricing to TPA leadership and stop loss partnerships.
Cyber security was a focal topic at the Fall Meeting as TPA members were educated about ways to effectively reduce their cyber risk exposure. In an overview session and series of supplemental workshops directly targeting TPAs' IT professionals, attendees learned about the different types of attacks happening today, the threats posed and the tools and advanced controls for preventing them. A roundtable talk gave TPA members the chance to share strategies and techniques for handling cyber risks, too.
"One of the best parts about our Fall Meeting is the peer-to-peer exchange that happens," said Anne Lennan, SPBA president. "The way panels and workshops are structured really encourages TPA members to share ideas and learn from each other's experiences."
Regulatory topics were also part of the agenda as things like HIPAA security audits, Free Market health care coverage and NAIC/state stop loss developments were covered.
On top of that, participants heard about the latest issues related to the Affordable Care Act (ACA), including employer plan reporting, wellness rulings and stop loss training.
"The agenda for these meetings is developed in large part from the feedback our TPA members provide," Lennan said. "We cover the topics that they want to hear about and are most relevant to the day-to-day operations of their TPA firms. I think this explains why turnout is always so high."
SPBA is the national association of Third Party Administration (TPA) firms that manage client employee benefit plans. It is estimated that over 70% of U.S. workers and their dependents in non-federal health coverage are in plans administered by TPAs. The clients of TPA firms include every size and format of employment, including large and small employers, state/county/city plans, union, non-union, collectively bargained multiemployer plans, as well as most industries and professions.